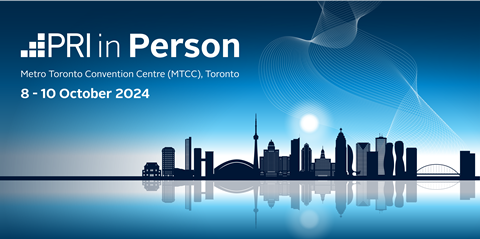 Introducing PRI in Person 2024
We are delighted to announce that PRI in Person 2024 will be held in Toronto, as our 16th annual conference visits Canada for the first time in a decade.
PRI in Person is the world's leading responsible investment conference. Up to 2,000 industry leaders, policy makers, experts and practitioners in responsible investment convene annually to network, learn about the latest developments, share best practice, develop opportunities and drive positive change.
This unique event also attracts a global digital audience and significant media profile.
Who will be there?
Key investment industry stakeholders, including asset owners, investment managers and service providers from around the globe will convene in Toronto. This includes many CEOs, CIOs, directors, portfolio managers and RI/ESG specialists.
Lead Sponsorship expressions of interest
We are now accepting applications from PRI Signatory organisations interested in becoming the Lead Sponsor for PRI in Person 2024.
The Lead Sponsor package ensures the highest level of recognition, both at the event and through a global digital audience. It is designed to help you build a strong profile in the responsible investment space that can, in turn, foster new business relationships across multiple markets.
For more details about how to apply for this package and to submit a formal expression of interest, please email sponsorships@unpri.org.
Closing date for applications: 17:00 (GMT), Wednesday 22 November 2023.
Other sponsorship opportunities
Our main suite of products and tiered sponsorship packages will launch in January 2024. These offer an extensive range of benefits from exposure and industry profile to complimentary registrations. To receive a copy of the sponsorship brochure, as soon as it becomes available, please contact the PRI's Sponsorship Team.
Delegate registrations
PRI in Person 2024 will open for delegate registrations in April 2024. To be notified when registration opens, please add your details to this form: PRI in Person 2024 updates.