The PRI took home the Outstanding Industry Contribution award this week at the Investments and Pensions Europe ceremony in Prague.
Judges said there could be "no question" about the influence of the PRI on a global level regarding the application of ESG investing.
The award recognises the PRI and UNEP FI for their work on the Fiduciary Duty in the 21st Century project, which aims to end the debate on whether fiduciary duty is a legitimate barrier to the integration of ESG issues in investment practice and decision making.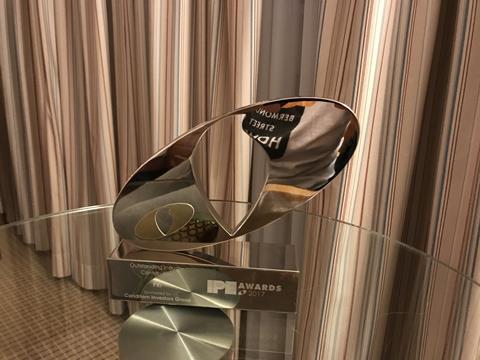 "We are delighted to accept this award on behalf of both the PRI and our UN partners, UNEP FI. Many thanks to the Generation Foundation for their support on our fiduciary duty work and to the judges for endorsing the project," said Will Martindale, head of policy, PRI.
Fiduciary duty has traditionally been considered an obstacle to ESG integration. In 2014, a PRI signatory survey identified misperception of fiduciary duties as the primary barrier to responsible investment.
To combat this, in 2015, with UNEP FI, we published Fiduciary duty in the 21st century. It concluded that fiduciary duties "required" ESG integration and that neglecting ESG analysis can cause the mispricing of risk and poor asset allocation, and so ESG integration is a necessary part of investment processes.
In 2016, the PRI, UNEP FI and The Generation Foundation launched a three-year programme to end the debate around fiduciary duties, leading to the publishing of eight detailed country roadmaps, with recommendations for institutional investors and policy makers.
It is clear the project is working. Policy reform in a number of markets is clarifying requirements to integrate ESG in investment processes. Two weeks ago, the European Commission published a consultation on investor duties and sustainability.