By David Atkin, CEO, Principles for Responsible Investment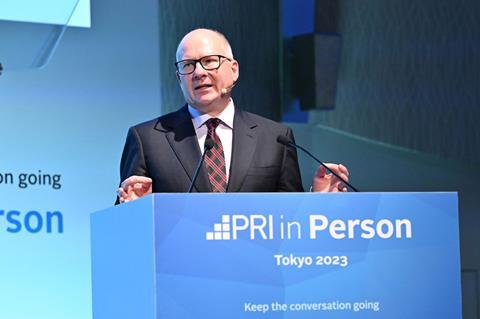 Within the first few hours of PRI in Person last week, I knew that the theme of the event – moving from commitments to action – was resonating in a really powerful way with the nearly 1,400 delegates from 52 countries gathered in person in Tokyo.
Proof of this theme in action came in the form of a commitment from the Prime Minister of Japan, who announced that seven public pension funds will start preparations to become signatories to the PRI. The Prime Minister also highlighted his support of sustainability outcomes in his address, which set a new benchmark for government commitment to responsible investment at PRI in Person.
We also welcomed the statement from the Japan Ministry of Environment's High-Level Panel on ESG Finance, which supports the PRI's efforts and our 'Investing for Sustainable Impact' (IFSI) approach and promotes expanded adoption of ESG investment amongst Japan's long-term investors, such as pension funds and life insurance companies.
From this early point in the event, we saw inspiration and motivation from investors small and large, individually and collectively, to carry the theme forward as we return to our workplaces around the world this week.
During the week, we heard diverse ideas and perspectives from our speakers, which hopefully sparked new ideas, connections and conversations with delegates joining in person and on-demand too.
Collectively, as members of the global responsible investment community, we have the power to make a real difference.
Of course, an event of this scale doesn't happen overnight and without support. I'd like to thank our lead sponsor, Nippon Life Insurance Company, and all our sponsors for their tremendous support. Thank you also to all my PRI colleagues who demonstrated teamwork at its best to deliver the conference.
Thank you to all our speakers who gave up their valuable time to provide their perspectives, to challenge us, and to highlight new opportunities. And a particular thanks to the Prime Minister of Japan and the Governor of Tokyo for supporting our work.
PRI in Person was also significant as our Chair Martin Skancke will step down this year after nine years in the role. Dr Renosi Mokate, Chair of the Government Employees Pension Fund in South Africa, PRI Board member since 2015, will also step down this year having served her maximum term. A very big thank you to both Martin and Renosi for all their invaluable contributions to the PRI.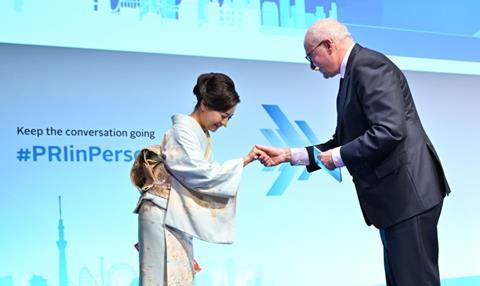 We covered a lot of ground in the two and a half days of the conference, alongside the many side events that complemented the PRI's programme. Sessions provided a great opportunity for delegates to learn, connect and debate on topics ranging from climate to nature, social issues including human rights, policy engagement and more.
Important conversations occurred all around the event too from coffee breaks to networking events. Across all these interactions, I was inspired by the urgency and ambition shared by delegates.
Midway through the week, the PRI opened its 'Spring' investor statement for endorsement, which will establish the groundwork to allow investors to tackle the risks from nature and biodiversity loss through their stewardship work. We also showcased other nature initiatives that are complementary, so that investors have the information they need to decide what's best for them.
More broadly, I think we saw a need for more work to be done in the policy space to create an enabling environment. Policy has a vital role to play in creating the right conditions for responsible investment to thrive.
Research and education too are critical for responsible investment (RI) to continue to grow. In recognition of this, Martin Skancke announced that we are launching a major funding initiative to promote new research in responsible investment and support students from underrepresented groups to undertake their PhD in responsible investment.
This will be in the form of the Reynolds and Gifford PRI Grant, named after former PRI CEOs Fiona Reynolds and James Gifford, who have done so much to move the PRI – and RI broadly – forward. More to come soon on this grant.
Policy has a vital role to play in creating the right conditions for responsible investment to thrive.
For now, let's mobilise the shared sense of urgency for action we saw in abundance at PRI in Person across a range of ESG issues. Collectively, as members of the global responsible investment community, we have the power to make a real difference.
For all signatories and stakeholders, please stay engaged and connected with the PRI – whether it's via our Academy courses, our Collaboration Platform or through networking events in your local markets. We're here, we're advocating for signatories and we're ready to support you in turning your commitments into action.
There's a lot to be done across the RI ecosystem before we reconvene for PRI in Person next year. However, please mark your calendars now for PRI in Person 2024 from 8-10 October in Toronto!
Video replays of sessions from PRI in Person 2023, which was held from October 3-5 in Tokyo, are available by registering here. A video of highlights from the event will be available in the coming weeks here. Please check back soon.
The PRI blog aims to contribute to the debate around topical responsible investment issues. It is written by PRI staff members and occasionally guest contributors. Blog authors write in their individual capacity – posts do not necessarily represent a PRI view.