By Jason Eis, Executive Director, Vivid Economics, Mark Fulton, Founder, Energy Transition Advisers (ETA), Eric Ling, Engagement Manager, Vivid Economics
As we write shortly after the US election, the result is still to be settled but the current status suggests:
Joe Biden is the President-Elect of the United States and Democrats continue to hold control of the House of Representatives.
The Senate is closely contested, and the run-offs in Georgia will determine the final result in January, although present consensus opinion is that Republicans are in the best position.
Climate has appeared to be an important factor in exit polls[1] and was cited by President-Elect Joe Biden as a key policy plank in his acceptance speech, but it has not proven to be a decisive factor in critical swing states (Deane & Gramlich, 2020).
Global leaders congratulating President-Elect Biden have cited cooperation on climate (Macias, 2020). There is common ground for an ambitious COP26 next year in Glasgow.
This comes on top of China announcing a 2060 net zero target and phase out of non-hybrid ICE by 2035. Japan has also announced a net zero 2050 target and the EU remains strong in its commitments and has raised the prospect of a carbon border tax adjustment (Droege, 2020; Rozès Moscovenko, 2020).
The outcome of this US election has an important bearing on climate policy in the next four years and to the Inevitable Policy Response (IPR) project that forecasts a forceful policy response to climate by 2025.
The incoming Biden Administration will provide substantially greater positive momentum around climate policy expectations and outcomes in the US and globally through renewed US leadership. Simply by using executive powers combined with state and local action, a forceful Inevitable Policy Response to climate looks achievable in the US.
The composition of the Senate is an important additional factor. If the Democrats were to hold the balance of power in the Senate, then a Biden administration combined with Democrat Congress would be far more impactful.
However, a Senate with a Democratic control of the balance of power currently is seen less likely than divided power. This would mean a check on the full ambitions of the Biden climate plan, although a significant increase in climate action is still very likely through direct executive action, enabling of state-level action, and federal legislative action, which better balances a Democratic agenda.
Combining new impetus in the US with recent comments from President Xi Jinping on targeting net zero 2060 in China, Japan and Korea announcing a 2050 target and continued high ambition in Europe, global policy momentum is gathering pace.
In terms of the Biden climate plan, we believe that the key points outlined below would be addressed fully if a unified democratic government were confirmed and, even without the Senate, many of the initiatives below should get enacted given Executive powers (the EPA being crucial), support from states, and a new stimulus package that reflects a compromise more favorable to the Democrats' agenda:
Re-join the Paris agreement – This can be achieved without Congress (as was initially the case).
Seek greater global action through diplomatic, trade and financial channels – Expect global engagement on climate. The executive has wide-reaching diplomatic authority. Relationships with the EU and China will be crucial relationships to leverage on climate.
Net zero emissions target by 2050 – This can be announced unilaterally by the administration. However, a credible commitment will require policy pathways including via legislature support, which is dependent on sufficient support in the Senate.
Zero carbon electricity system by 2035 – This can be regulated without consent of congress (Mass. vs. EPA) via New Source Performance Standards (NSPS) and other Clean Air Act regulatory authority vested in the Environmental Protection Agency (EPA). The signal of strong intent will itself have some impact on markets, but implementation will take time, and legal challenges can derail the process.
Clean energy oriented interstate energy transmission regulation, permits and leasing of public lands – Federal permits and land leases for infrastructure, oil and gas development and offshore wind will favour clean energy, hampering oil and gas, while unlocking renewable energy, and the Federal Energy Regulatory Commission (FERC) can deploy its wider array of powers to more broadly support state-led action.
Tighter fuel economy standards and enabling state action – More ambitious fuel economy standards that incentivise a shift to electric vehicles will replace the Trump administration's rules, and states seeking to set zero emission vehicle rules with mandatory ICE phase out – starting with California – will not face resistance.
Major clean energy innovation programme – The Department of Energy (DoE) can set efficiency standards that might spur innovation; and some budget funds could be reallocated where not earmarked to support this. New funding will require legislation, but this is an area that has historically garnered broader bipartisan support.
Reduce the carbon footprint of the national building stock by 50% by 2035 – Further study is required to determine whether this is achievable without legislation. The DoE has regulatory authority to set some efficiency standards without congressional approval. States are also active here. Contributing to achieving this objective, President-Elect Biden has committed on day one to ensure through Executive action that all US government installations, buildings, and facilities are more efficient and climate-ready.
Programme of economy-wide decarbonisation policies supported by substantial Federal spending – President-Elect Biden has committed to large fiscal spending to create jobs and support the net zero transition across the infrastructure, automotive, transit, power, buildings and agriculture sectors. While legislation will be required – with difficulties expected in the Congress – Biden could achieve some success in pushing these policies within stimulus packages where policies are popular in red states, and more broadly through public procurement rules.
We would add that many economists and business leaders have called for a carbon market potentially with Border Cost Adjustments (BCAs) – The US EPA can regulate greenhouse gas emissions. However, a full package including a tax and BCAs requires full Congressional approval. It is possible that border cost adjustments could be done through some emergency power granted to the president by congress previously. This would be difficult, but there are some potential pathways.
Other factors that merit further review following the election are:
Financial policy and regulation – The executive branch has wide-reaching authority over financial supervision, policy, and regulation. Signals from the Federal Reserve and US Securities and Exchange Commission show increasing attention to much greater consideration of climate in financial oversight
The Federal Reserve has requested to join the Network for Greening the Financial System (NGFS)
Four more years of ongoing investor engagement with companies and capital recycling
The continued fall in green technology costs
Investors: act now
Covid-19 has already caused a great deal of volatility in financial markets in 2020. The five sectors in public equity markets identified as key in IPR equity market results were:
Oil and gas
Utilities
Transport
Non-energy materials
Industrials
Covid-19 has already caused a great deal of volatility in financial markets in 2020. With so many variables in play regarding what might be priced into markets in term of climate policy driven value, we think that some stability is first required beyond the current volatility before we can more accurately assess the market pricing issue. Once the current political dynamics and COVID expectations have settled it will be easier for investors to view the climate thematic. However, we believe that the underlying principles of the IPR methodology are still valid in terms of the thematic implications for portfolio construction.
A full review of IPR's policy forecasts is underway by the IPR consortium and will be available in Q1 2021.
Read report, The Inevitable Policy Response under Biden's climate plan - the stage is set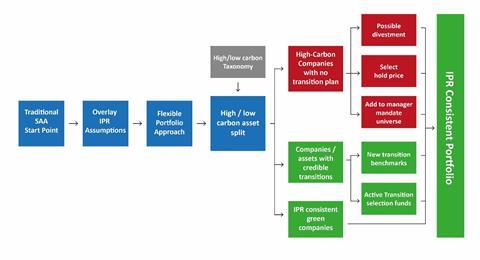 This blog is written by PRI staff members and guest contributors. Our goal is to contribute to the broader debate around topical issues and to help showcase some of our research and other work that we undertake in support of our signatories. Please note that although you can expect to find some posts here that broadly accord with the PRI's official views, the blog authors write in their individual capacity and there is no "house view". Nor do the views and opinions expressed on this blog constitute financial or other professional advice. If you have any questions, please contact us at blog@unpri.org.
References
[1] Exit polls appear to show that his messages on climate change broke through with voters. Morning Consult found that 74% of Biden voters described climate change as "very important" to their vote, a sign that lack of action would potentially affect the new president's base. Another exit poll by Fox News and the Associated Press determined that 67% of voters—not just those who cast ballots for Biden—supported "increasing government spending on green and renewable energy.