How does the PRI ensure reported data is credible?
The PRI has several steps in place to reduce reporting errors and enhance the credibility of PRI data and the Transparency Reports:
Reports are made public
Transparency has always been a key tenet of the Reporting Framework. This is why the majority of signatory responses are made public.
Through the Data Portal, which launched in 2017, asset owners can easily find reports from current and potential managers, and seek evidence to support manager responses, thus dissuading investors to misreport.
Responses are checked after submission
The PRI runs validation checks on a variety of indicators after receiving the final data, looking for:
contradictory responses;
major changes compared to information reported in the previous year (e.g. AUM change by over 75% and organisation name change);
outlier data points.
When these discrepancies are identified, the PRI contacts the signatory to clarify the reported information before inclusion in the overall data set.
The PRI also checks the data when it is analysed. This data forms the basis for our interactive snapshot reports and feeds into the Annual Report. During the analysis of each indicator, the PRI checks for outliers in numerical answers and adjusts responses used for aggregated analysis when information is deemed erroneous.
Qualitative information is analysed
The PRI further validates closed-ended questions by analysing additional qualitative information. Where misreporting is identified, the PRI retains the right to adjust the data when conducting analysis.
Certain signatories are interviewed or consulted
The PRI uses reported data to identify signatories for follow-up interviews or consultations to inform specific work streams. During interviews, the PRI might identify when information they gather contradicts reported information. Information on specific indicators may also be substantiated during development sessions.
Recurring themes in the data are analysed
Processes and themes - such as environmental and thematic investments, and climate change policies - appear throughout the Reporting Framework and enable the PRI to cross-check the integrity of responses.
Similar signatories' reports are compared with each other
The PRI ensures reports of signatories holding similar assets can be compared by:
having a systematic and consistent approach to reporting;
providing explanatory notes that set a common terminology;
providing clear options for each question;
quantifying the options where possible and necessary.
How can signatories increase the credibility of their reported data?
Introducing measures to increase the credibility of reported data - so-called "confidence-building measures" - will add value to the PRI by:
advancing accountability and transparency;
ensuring the credibility of PRI Reporting Framework responses;
showing signatory leadership, and;
building greater stakeholder confidence in reported data.
To evaluate which measures could be used by signatories, the PRI created the Assurance Working Group in March 2017. The group helped identify the requirements, benefits and challenges of different confidence-building measures.
The image below shows the natural progression in confidence-building measures that signatories could use to improve the credibility of their information.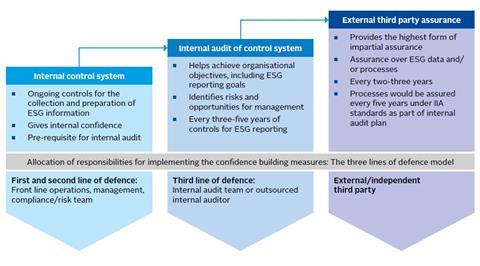 Find out more about confidence-building measures
Governance and internal controls
Developing robust internal controls is the first step on the journey towards enhancing accountability of PRI signatories and credibility of their reported information. An organisation's confidence in its reporting is a direct result of the quality of its internal control environment.
Internal audit and external assurance
Signatories can use internal audit to verify that their internal control mechanisms on ESG reporting, and those specific to RI processes are working as intended. This helps organisations prepare for external third-party assurance of ESG information, and should result in a more efficient assurance process. External assurers can provide guidance on best practices thanks to their exposure to many similar organisations.
Processes typically audited/assured
Signatories who reported they conduct third-party assurance of their internal controls did so for the following RI processes:
Strategy and governance: policies and main overarching RI processes
Active ownership: voting policy and processes, engagement processes
ESG incorporation strategies: screening processes (e.g. to prevent breaches)
Assurance standards for the review of ESG information and processes are an emerging field. ISAE 3000 is the most widely used standard for information, while ISAE 3402 can be used for ESG processes (overlaps with SSAE 18) by service organisations.
The reporting process
1

2

3

4

5

6

7

8

Currently reading

Validation and credibility of reported data

9

10