PRI Reporting is the largest global reporting project on responsible investment. It was developed with investors, for investors.
Signatories are required to report on their responsible investment activities annually. This ensures:
accountability of the PRI and its signatories;
a standardised transparency tool for signatories' reporting;
that signatories receive feedback from which to learn and develop.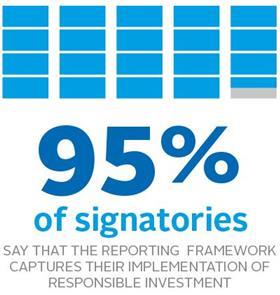 WHAT ARE THE BENEFITS FOR SIGNATORIES?
Evaluate progress against an industry-standard frameworK
Receive ongoing feedback and tools for improvement
Benchmark your performance against peers
See the big picture – understand the state of the market
Strengthen internal procedures and build ESG capacity
Summarise activities for staff, clients, shareholders and regulators
Who has to report and when?
Reporting is compulsory for all asset owner and investment manager signatories. It is one of the explicit commitments that signatories make when signing the Principles, and signatories that fail to report are delisted.
To allow new signatories time to familiarise themselves with the process, signatories go through one full reporting cycle during which it is voluntary to report, meaning that depending on when in the year a signatory signs the Principles, compulsory reporting will first take place 12-24 months after signing. The PRI encourages new signatories to report in their first year and use this process as a learning experience. (If signatories do report during their grace year, they can decide whether to publish their reporting or keep it confidential.)
The period in which reports must be submitted runs for three months from January, ending 31 March. Signatories are free to choose the period they report on but should report on the same period each year.
Signatories estimate that for an organisation managing more than US$1 billion it takes one full-time staff member approximately one week to collect, aggregate and submit information. This will vary based not only on the organisation's size, but also its structure and asset mix (which will determine how many modules must be completed) and what information flow and data tracking systems are in place. After the first year, the Reporting Framework is pre-filled with the previous year's answers, saving signatories time where information has not changed.
How are signatories assessed?
Signatories are assessed against a range of indicators within each module.
The Assessment Report that signatories can choose to receive will include:
indicator scores– summarising the individual scores achieved and comparing them to the median;
section scores– grouping similar indicator scores together into cateogries (e.g. policy, assurance, governance) and comparing them to the median;
modules scores– aggregating all the indicator scores within a module to assign one of six performance bands.

For more details, see the Assessment Methodology and the detailed indicator-level methodology. An example of an Assessment Report can be found here.
THE PRI ASSESS SIGNATORIES TO:
Facilitate learning and development, outlining how the implementation of responsible investment within signatories compares year-on-year, across asset classes, and with peers at the local and global level
Identify areas for further improvement
Facilitate dialogue between asset owners and investment managers on responsible investment activities and capabilities
About PRI reporting and assessment
1

Currently reading

About PRI reporting and assessment

2

3

4

5

6