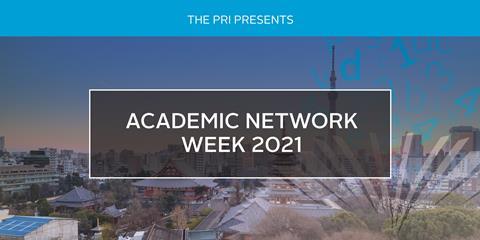 The PRI Academic Network Week was hosted across five days between 13-17 September 2021.
The event brought together the latest high-quality evidence and insights in responsible investment practices in an accessible way and aimed to bridge the gap between academic researchers and investors. The findings were presented by their authors and discussed by investment practitioners and academics to offer feedback, to understand the work in the context of the literature and in relation to real world practice. Please click here to view the full agenda.
To find out more about the PRI's Academic Research programme and access past event papers, visit our website here.
Please find the recordings and papers for each day below:
Agenda
Day 1: Climate Finance

Paper 1: Welfare consequences of sustainable finance - Recording | Paper
Paper 2: Outsourcing climate change - Recording | Paper
Paper 3: Fresh start or fresh water: collateral, lender environmental liability and the pollution-employment tradeoff - Recording | Paper
Day 2: Climate Politics and Commitments

Paper 4: Partisan residential sorting on climate change risk - Recording | Paper
Paper 5: Green and brown lobby: who shapes the climate policy in the European Union? - Recording | Paper
Paper 6: Firm commitments - Recording | Paper
Day 3: Corporate Governance

Paper 7: For whom corporate leaders bargain - Recording | Paper
Paper 8: CEO compensation: evidence from the field - Recording | Paper
Paper 9: The benefits of access: evidence from private meetings with portfolio firms - Recording | Paper
Day 4: ESG and Impact Investing

Paper 10: Who cares wins: cultural values and the rise of responsible investing across the world - Recording
Paper 11: On ESG investing: heterogeneous preferences, information, and asset prices - Recording | Paper
Paper 12: The risk and return of impact investing funds - Recording | Paper
Day 5: ESG Ratings and Investing

Paper 13: Stock price reactions to ESG news: the role of ESG ratings and disagreement - Recording | Paper
Paper 14: Rewriting history II: the (un)predictable past of ESG ratings - Recording | Paper
Paper 15: Environmental, social and governance (ESG) factors and municipal bond yields - Recording | Paper
We would like to thank our Lead Sponsor: