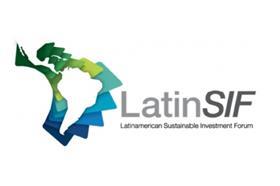 The LatinSIF today announced that it is ceasing its operations and encouraging its members to join forces with the PRI as a way to further enhance and support responsible investing strategies across Latin America.
Since 2013, the LatinSIF has played a significant role in developing a responsible investment community in Latin America and has worked closely with the PRI on a number of initiatives such as co-hosting events and providing education and training through workshops and the PRI Academy.
As an outcome of this cooperation, and in order to leverage on the PRI's global reach, LatinSIF's Board has decided to dissolve the organization and encourage its members to join the PRI. In fact LatinSIF is supportive of the PRI's 2017-2020 strategic plans, which involve expanding its reach in Latin America in order to connect with more Latin American-based investors and allow investors outside Latin America to understand how ESG issues can affect local companies as they increase their allocations to emerging economies.
The PRI will form a Spanish Speaking Latin America Advisory Committee, comprised of LatinSIF founding members and interested and selected existing PRI signatories from the region, to support and develop an engaged network of investors in the region and assist the PRI with developing a tailored recruitment and engagement strategy for several markets in Latin America (ex-Brazil). The budget for the PRI's Latin America expansion will include the hiring of a new Spanish-speaking staff member who will be located in Bogotá, Colombia as part of the PRI's Global Networks and Outreach team. The PRI will not assume any legal or financial obligations from LatinSIF.
"The mission of LatinSIF has been to promote sustainable investment in Latin America" said Eduardo Atehortua, LatinSIF representative.
"By joining the PRI network, more organisations in the region will have the opportunity to access tools and capacities for better consider environmental, social and corporate governance (ESG) factors in their investment decisions and that's very good news for all the parties involved in the development of LatinSIF".
"We have seen a growing interest in sustainable investing across Latin America," said Lorenzo Saa, Director of Global Networks and Outreach of the PRI.
"And we believe the expertise of the LatinSIF members will help us to deliver value to investors in Latin America in the form of increased local support and greater insights into how ESG issues can impact their investments in the region. We look forward to working with LatinSIF members and learning from their expertise of working in Latin America."
For more information, please contact:
Eduardo A. Atehortua
Manager | Sustainability
Deloitte & Touche Ltda
T: +57(4) 6041771 | C: +57 314 653 4885
eatehortua@deloitte.com | www.deloitte.com/co
Joy Frascinella
Head of PR
PRI
T: +44(0)207 714 3143, M +44(0)7415725244