By Fiona Reynolds, CEO, PRI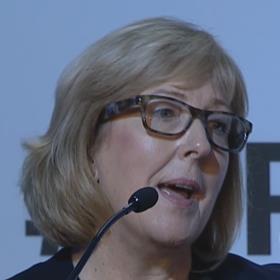 At this year's PRI in Person in Paris, we had fantastic engagement from signatories, policy makers and government – reflecting a strong focus from civil society – around responsible investing. The theme of 'responsible investment in an age of urgent transition' was echoed by delegates throughout the event.
All of our speakers, who joined us from around the world, enriched the programme with their diverse insights and experiences.
We were very pleased to receive a welcome message from President Macron of France, who emphasised the critical role investors have to play in safeguarding the climate, in turn calling for further collective action.
Bruno Le Maire, Minister of the Economy and Finance in France, urged that 'We need to give concrete answers and concrete responses to what young people are calling for.' Jean Raby, CEO of our valued lead sponsor Natixis Investment Management, encouraged investors to respond to the answers being demanded by the younger generation, as young people are not going away…
A particular highlight for me was the number of people I spoke to who said this was their first responsible investing conference. Their enthusiasm was terrific, and we hope to welcome them back next year to PRI in Person in Tokyo.
I was also pleased to share highlights included in our Annual Report at our annual SGM, an important focal point for our signatories to chart our progress and to ask questions.
We also announced our first ever PRI Awards and Leaders' Group. The Leaders' Group assesses the breadth of signatories' excellence, while the PRI Awards recognises individually excellent projects across our signatory base. It was fantastic to recognise signatory best practices and highlighting those that are doing great work in responsible investment around the world is extremely important to raising standards and ambition among signatories.
I mentioned at the event the investor statement around the Amazon, which has been released this week. Two hundred and thirty institutional investors representing US$16.2 trillion in assets are calling on companies to take urgent action in light of the devastating fires in the Amazon, which have been fuelled in part because of the deforestation happening at an alarming rate in Brazil and Bolivia.
Throughout the conference, the PRI also shared important work to support signatories including the Inevitable Policy Response (IPR), a landmark project which aims to calculate the impact of a rapid and forceful policy response to climate change on 2,000 of the world's largest companies.
Quarterly highlights
Turning to some other key highlights from the past quarter:
Signatory survey: Our signatory survey is open until September 27, and we encourage signatories to participate. Your responses will help shape the work we undertake and the value that we deliver to you, both in our next one-year plan and the PRI's 2021-2024 strategy.
We have launched a number of new guides to help signatories including:
In addition, we enhanced some platforms and tools to help signatories:
RI review tool: a solution for asset owner boards to test and strengthen their responsible investment approach.
Updated Collaboration Platform: a unique forum that allows investors to pool resources, share information and enhance their influence on ESG issues. It is also a hub for academics and investors to connect and engage with research.
Accelerating action
To turn back to PRI in Person, I think we all felt the sense of urgency from across the spectrum—from governments, investors and civil society. We all agree – this is no time for complacency.
While there are many positive stories to tell in responsible investment, at the end of the day, we're facing a climate emergency and dramatic social change. And that means, we – as a global community of investors—need to come together and accelerate our action.
French student Aliénor left us with a powerful wakeup call yesterday, one which I hope you'll all take forward with you as you return home: 'With ownership comes great responsibility'.