By David Atkin – Chief Executive Officer, PRI
COP27 in Sharm El-Sheikh represents the latest milestone opportunity for governments and non-state actors, including from across the investment industry, to come together with the goal of delivering on the Paris Agreement.
After last year's conference in Glasgow, where the focus was very much on ambition and commitments, this year's event has, thus far, focused on implementation – how can we act on climate change, at the necessary scale and ambition required to keep the hope of a 1.5°C future alive?
I was privileged to attend COP last week to represent you, our signatories, and to help ensure that our industry is represented in these utterly vital discussions.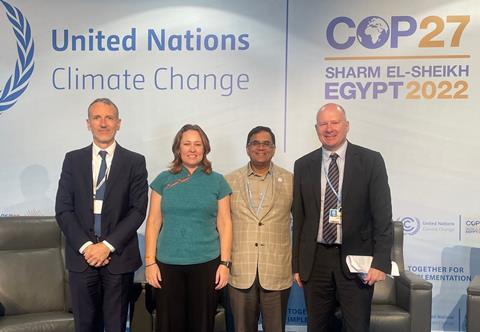 The conversations I had with our stakeholders helped to reinforce not only the scale of the challenge before us and the very real consequences of failing to act, but also that investors are prepared to drive ambition further and faster, and to take action where it is most needed.
The significance of holding this COP in Egypt cannot be understated. Climate change threatens our way of life and our ways of doing business, and this cost stands to be disproportionately borne by developing nations across Africa and beyond.
Without action, our planet's warming will undoubtedly compound the current and deeply challenging economic and social pressures for those nations that already have desperately scarce resources available to tackle them.
The discussions I heard during the week made it clear that our industry has an integral part to play in facilitating an orderly and just transition to a global economic system that safeguards the future of our world and means that investors can effectively execute their fiduciary duty and deliver returns well into the decades to come.
The PRI's role is to support and act on behalf of our signatories as this transition takes shape, and during the first week of COP27 we were able to do so loudly and clearly in several pivotal events, panel sessions and meetings, where it is imperative that investor voices be heard.
We must be clear-eyed about the fact that, if left unchecked, climate change represents the largest and most pressing threat to our ability to function effectively as investors in the future.
Many of you will be aware of my recent in-person meetings with our signatories around the world as we continue to work through our ongoing PRI in a Changing World consultation, the formal survey phase of which will open soon.
These deeply informative and important conversations, alongside my meetings with signatories attending COP this year, underlined that our signatory base has a genuine ambition and commitment to respond to the threat of climate change effectively and comprehensively.
We must be clear-eyed about the fact that, if left unchecked, climate change represents the largest and most pressing threat to our ability to function effectively as investors in the future. As an industry, we have a duty to clients to address this threat.
And while we should acknowledge that the industry needs to do more to drive ambition and action on the issue, the message I am hearing from signatories is clear – "we want to act, but we need support in doing so."
One of our key calls to action during our various engagements over the first week of COP has been to policy makers, calling on them to effectively support the actions that investors are already taking, and to elevate the impact of these actions to the next level.
That means we need more joined-up action from policy makers and regulators globally, to help shape the way investors approach this challenge and, importantly, to increase the universe of investable opportunities that tackle the climate challenge while also delivering appropriate returns.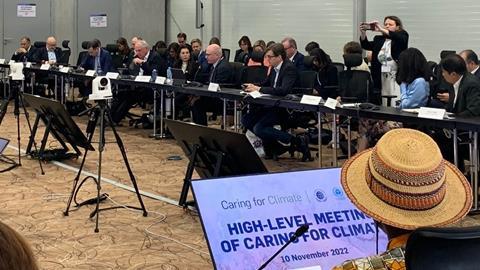 On Monday 7 November, I was fortunate to be able to attend the Forests and Climate Leaders' Summit, where I heard addresses from US Special Presidential Envoy for Climate John Kerry, German Chancellor Olaf Scholz, UK Prime Minister Rishi Sunak, Colombian President Gustavo Petro and Norwegian Prime Minister Jonas Gahr Støre, among others, on how governments around the world are responding to the challenges of deforestation.
In addition, on Tuesday 8 November, I attended the launch of the report by the High-Level Expert Group on the Net-Zero Emissions Commitments of Non-State Entities, which was addressed by UN Secretary-General António Guterres.
On Finance Day (9 November), the PRI was one of a small number of observers invited to provide input into the High-Level Ministerial Dialogue on the New Collective Quantified Goal on Climate Finance. I personally contributed to the dialogue, providing an investor perspective on numerous key agenda items, including how the lessons learned and opportunities identified from the work programme so far can help deliver the mobilisation and provision of climate finance.
The PRI believes engagement and input of this nature is of paramount importance in ensuring the voices of our signatories are heard loudly and clearly at high-level discussions, which stand to fundamentally impact the direction of travel for the whole responsible investment landscape.
Despite challenging market headwinds and ongoing socioeconomic uncertainty, one message is clearer than ever: to be an effective investor means to be a responsible investor.
I was also pleased to moderate several panels, including on behalf of the Marrakech Partnership for an event on mobilising finance for climate solutions and resilience, and with our colleagues from The Investor Agenda, on the best ways to support investors on mobilising their net-zero commitments.
Both events were deeply informative, allowing us to hear perspectives from investors, policy makers and other influential voices on the evolving role the industry must play in the future.
These groups agreed on a key point – although the investment industry has made progress, it's not yet "job done". The hardest challenge is still before us, and we must pursue innovative and ambitious ways of action to give the industry a chance of navigating the transition effectively.
The themes of this year's COP – around implementation, a just transition and connections between climate, biodiversity and nature, to name a few – have been clearly stated and well heard.
The outcome of this conference will ultimately define whether it is viewed as a success – but we must not lose sight of the progress made by our industry so far, and the core role we have yet to play.
To reiterate: investors cannot shoulder this burden alone. But at this point we simply cannot rest on our laurels. We need to capitalise on the groundswell of support that I know exists across our industry and transform this into more ambitious commitment and tangible action.
Despite challenging market headwinds and ongoing socioeconomic uncertainty, one message is clearer than ever: to be an effective investor means to be a responsible investor. Let's use this COP as an opportunity to push ourselves forwards.
As the PRI, we're committed to understanding how climate priorities are being shaped by economies around the world, to allow us to better feed investor perspectives and needs into the key international discussion that will shape future global action.
I look forward to continuing these conversations at PRI in Person & Online 2022 in Barcelona.
For more information and to register for this upcoming event: