By Alina Neculae, Senior Policy Analyst, EU and France, Policy, PRI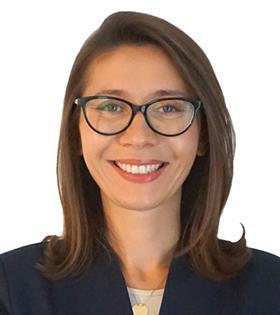 As of 2 August 2022, insurance and reinsurance companies in the European Union are required to take into account the potential long-term impact of their investment strategy and decisions on sustainability factors, as part of the prudent person principle (PPP).
The PPP sets out the rules and principles that (re)insurers should follow when carrying out investment activities. This boils down to an expectation for investors to make rational and reasonable decisions when making investment choices on behalf of policyholders and insured persons.
Why does this matter for insurers?
Many investors treat the pursuit of positive sustainability impacts as an activity that is only within the remit of specialist impact investment funds. Those times are gone.
As the European Insurance and Occupational Pensions Authority (EIOPA) highlighted in its technical advice, requiring (re)insurers to consider the impact of their investments on sustainability factors does not oblige them to make sustainable investments, invest with impact, or to accept lower risk-adjusted returns.[1]
Indeed, it argued that considering the impact of sustainability risks on investments and the impact of investments on sustainability factors is mutually reinforcing and can lead to more sustainable investments overall.
Therefore, insurers should consider the sustainability impacts of investments where it is relevant to their investment purpose and objectives.
Figure 1: A sustainable investment cycle. Source: Adapted from EIOPA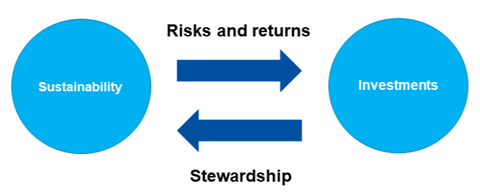 More guidance needed from policy makers
Although the inclusion of investments' sustainability impacts in the PPP is a welcome development, more guidance is needed for what this means in practice.
More funds should be channelled towards the European Green Deal, and insurers should play a more active role in contributing to sustainable economic activities.
EIOPA estimated that only 5% of the total asset value held by insurers may be considered sustainable under the EU taxonomy; nevertheless, they still contribute to the climate objectives of the European Green Deal.[2]
The current Solvency II framework also provides limited incentives for insurers to contribute to the long-term greening of the European economy.
What should policy makers do?
Our report on integrating sustainability goals across the investment industry proposed changes that would enable investors to pursue sustainability impact goals more actively and widely. Policy makers should consider the following interpretations and recommendations for this new PPP requirement:
Clarify that the requirement for investors to consider the potential long-term impact of their investment strategy and decisions on sustainability factors:

extends to pursuing positive sustainability impacts when this is necessary to address sustainability risks;
goes beyond simply not investing in assets that carry sustainability risks or reducing exposure to them. In many cases, active steps may best be taken collectively with other investors and third parties.

Investors should go beyond only considering long-term inside-out impacts[3], as sustainability impacts may materialise in the short and medium term as well.
To consistently integrate double materiality across the EU financial system, policy makers should clarify that the PPP in Solvency II requires the consideration of double materiality.
EIOPA and other relevant regulators in EU member states should develop guidance on how to apply the PPP, in particular:

whether the requirement to consider inside-out risks is limited to investment decisions (i.e. concerning the acquisition or disposal of investments) or extends to all decisions by investors (i.e. including stewardship);
how insurers should assess sustainability risks and impacts; how they may set and pursue sustainability impact goals, when these support financial goals or are pursued in their own right;
how sustainability impact goals relate to financial goals and duties.
Solvency II review and policy engagement opportunities
In September 2021, the European Commission published a proposal to amend Solvency II, with the aim of channelling funds towards the European Green Deal, among other things.
The proposal sets out options to incentivise insurers to contribute to the long-term greening of the European economy. It also requires EIOPA to explore, by 2023, whether a dedicated prudential treatment of exposures related to assets or activities associated substantially with environmental or social objectives would be justified.
EIOPA would assess whether the prudential rules could be reviewed to capture the possible long-term lower-level risks of some types of sustainable assets.
It could also amend the Solvency II Directive to require insurers to factor plausible macroeconomic and financial market developments into their investment strategies and assess whether their investments increase systemic risk. The PRI provided feedback on the September 2021 proposal in January 2022.
If implemented, this proposal could clarify how insurers should consider sustainability impacts. The European Council agreed its general approach in June and the European Parliament committee vote is scheduled for 1 December 2022. An agreement is expected by mid-2023 at the earliest, with the new rules coming into force from the end of 2024.
Next steps
Through our continuous work on the Legal Framework for Impact project, we are proposing policy reforms that would enable investors to actively, deliberately and systematically pursue sustainability impact goals, in alignment with their duties.
If you have any questions or would like to provide your feedback on, or an interpretation of, this new requirement under Solvency II, please contact alina.neculae@unpri.org.
This blog is written by PRI staff members and guest contributors. Our goal is to contribute to the broader debate around topical issues and to help showcase some of our research and other work that we undertake in support of our signatories. Please note that although you can expect to find some posts here that broadly accord with the PRI's official views, the blog authors write in their individual capacity and there is no "house view". Nor do the views and opinions expressed on this blog constitute financial or other professional advice. If you have any questions, please contact us at blog@unpri.org.