Active Ownership 2.0 is an aspirational standard for improved stewardship. It sets a framework for the future of stewardship where investors seek outcomes, prioritise systemic sustainability issues, and use collaboration as an integral tool to overcome the collective action problem.
About the framework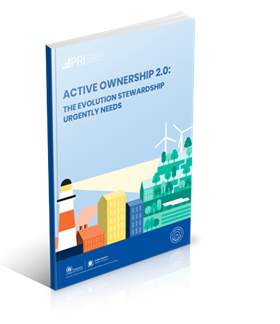 Our paper setting out the case for change and the high-level framework for Active Ownership 2.0 was released in November 2019. We will be building on this work to provide PRI signatories with further guidance on best practice stewardship.


Past events
Blog
Podcast
Consultation on the framework
Following the release of the Active Ownership 2.0 paper, signatories were invited to respond to a consultation on the high-level framework.
Responders were supportive overall:
82% of respondents agreed that the level of ambition of the standard was correct.
Approximately two thirds of respondents gave the concepts raised and solutions proposed in the paper a rating of 4 or above (out of 5).
Around 90% of respondents supported the inclusion of: 1) outcomes 2) common goals and 3) collaborative action in the standard.
Responders provided us with valuable feedback:
| KEY FEEDBACK | HOW WE ARE RESPONDING |
| --- | --- |
| A significant proportion of respondents did not feel that every stewardship tool is available to organisations to maximise long-term outcomes. | The PRI will provide guidance on the various tools investors can use and best practice on how to utilise these tools. The PRI will also seek to address barriers to using these tools, for example our work on Acting in Concert that seeks to address barriers or perceived barriers to collaborative engagement with companies. |
| Many respondents wanted the PRI to play a role in addressing barriers that limit investors' efforts to meet this standard. | The PRI will continue to address barriers to effective stewardship through our work on: |
| Respondents wanted further guidance on how investors can align to the standard. | The PRI is committed to providing signatories with further support on how to align to Active Ownership 2.0. This will include producing case studies on good stewardship practice aligned to Active Ownership 2.0; and guidance on how to meet the standard using different stewardship tools, such as voting on shareholder resolutions. |