Organisation details
Name: Mirova Société Anonyme
Signatory Type: Investment manager
HQ Location: France
Assets under management: €29 billion[1]
Covered in this case study
Asset class(es): Listed equity and bonds
Geography: Global
Mirova is a conviction-based investment manager dedicated to sustainable investment. We develop investment solutions aimed at accelerating the sustainable transformation of the economy.
In 2020, we became a mission-led company, formalising our purpose and commitment in our articles of association to go beyond just meeting our economic and financial responsibilities.
Using the SDGs to guide our ESG assessment
The UN Sustainable Development Goals (SDGs) set out a comprehensive framework for assessing environmental and social issues, applicable to all economies, regardless of their development level.
They also allow us to examine how resilient our holdings are, and how exposed they are to new solutions and economic models, in the face of ongoing transformation.
Finally, our approach uses the SDGs to uses the SDGs to manage sustainability related risks and identify positive impact, particularly companies that provide solutions that contribute to that sustainable transformation.
Assessing companies' contributions to the SDGs
We use the SDGs to assess how companies or issuers contribute to the sustainable transformation of the economy and to evaluate the financial implications of these challenges, following three main principles:
An analysis of positive impact and residual ESG risks:

We group contributions to the SDGs into two main categories, which are often complementary.

The activities of entities (i.e., the products and services they offer)
The operational practices of entities (i.e., by creating sustainable and inclusive jobs, by having strong commitments to net-zero targets beyond their green product offerings)

Contributing to the SDGs cannot be done at the expense of other environmental and social issues. Therefore, identifying and minimising ESG risks linked to our investments is equally important in our assessments.

A lifecycle analysis: We consider the impact of a company through its entire lifecycle, from the extraction of raw materials to a product's disposal.
Differentiated issues: We adjust our assessment criteria based on the specificities of each business model and exposure, such as the relevant sector.
Using quantified metrics or targets, we analyse companies to identify those that a make a positive contribution to one or several SDGs and that do not contribute negatively / detract from any other SDGs.
We break down our overall assessment into the following six impact pillars: Climate, Biodiversity, Circular Economy, Socio-economic development, Health and Wellbeing and Diversity and Inclusion, as illustrated in Figure 1.
Figure 1: Mirova's assessment of SDG contribution based on six impact pillars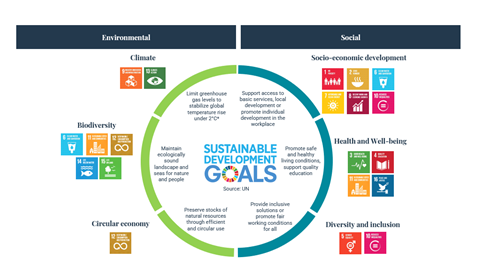 We assess companies against each pillar according to a five-point qualitative scale, from Negative Impact to High Positive Impact (see Figure 2).
Figure 2. Scale determining investment eligibility

Example: Assessing Xylem's contribution to the SDGs
Up to 40% of the world's population will face absolute water scarcity by 2050 while 45% of wastewater is not treated, creating opportunities for circular water use.
Additionally, our society will have to adapt to extreme weather events that are increasing in frequency, duration and severity due to water cycle disruption, as well as adjusting to structural increases in city populations (68% living in cities by 2050).
This is particularly relevant to mitigate the risk of rising sea levels facing the 300 million people by 2050.
According to our analysis, Xylem is well positioned to contribute to these challenges, as we outline below.
Pillar[2]
Eligibility scale rating
Corresponding SDG
Details on the contribution

Positive contribution

Biodiversity

Moderate Positive impact

6

Xylem supplies innovative and resource-efficient technologies focused on water and wastewater treatment that improve water productivity, quality and resilience for utilities, industries, and cities.

Roughly one-third of Xylem's portfolio comes from sensor-based products and software that can remotely measure and control watershed integrity, improve water treatment processes and provide predictive maintenance.

Xylem's circular water technologies also enable wastewater reuse, improving the sustainability of cities.

Health and Wellbeing

Moderate Positive Impact

12

Xylem offers enhanced small pumping equipment, improving access to sanitation in emerging areas and enabling disaster risk management in flood-prone areas, which can prevent pandemics and remediate extreme events.

Diversity and Inclusion

Low Positive Impact

5

In 2022, Xylem added a female CFO to its executive team, taking female representation to 27% at that level. More broadly, women occupy 25% and 24% of top and middle management positions respectively, and 25% of the overall workforce, showing that the company is retaining female talent and provides opportunities for progression.

Xylem is committed to addressing the glass ceiling for diversity overall and has set two goals: achieving 50% female representation and 25% minority representation in leadership positions by 2030 (in the US).

Xylem has also worked towards making its job descriptions more inclusive to ensure it attracts a diverse pool of candidates.
Risk management analysis
As a water equipment supplier employing more than 20,000 people in 375 locations, the company's main ESG risks relate to the quality requirements and resource efficiency of products, the unsustainable use of products and workers safety. The company adopts a satisfactory approach but could improve its stance on product use life and repairability. Moreover, the company could focus on large-scale sustainable climate adaptation projects and quantify its positive impact on saved water by using a third-party verified methodology.
Xylem has an enterprise-wide product safety process and governance structure that includes investigating and implementing corrective measures following failures or malfunctions. Over three-quarters of factories meet certain management quality standards.
Xylem aims to improve the resource efficiency of its products and has defined an ambitious roadmap to do so. By 2025, it has committed to reducing lost (non-revenue) water by over 3.5 billion m3, to treat 13 billion m3 of water for reuse (4.7 billion m3 achieved in 2020), and to prevent over 7 billion m3 of polluted water from flooding communities or entering local waterways (2.6 billion m3 achieved in 2020).
According to the company's sustainability report, Xylem has consistently been reducing the energy intensity and carbon emissions of its industrial processes and has committed to using 100% renewable energy and process water recycling at its facilities by 2025. It will also develop a science-based target to reduce its Scope 1 – 3 greenhouse gas emissions. Yet overall, Xylem has limited control over the industry's most water-intensive impacts.
The company systematically manages health and safety in its own operations and the accident rate has been decreasing in recent years, yet only 32% of sites are safety certified. Xylem is looking to reduce injury frequency to an incident rate below 0.5 by 2025.
Alongside robust internal measures, it discloses a supplier policy covering relevant elements of labour rights and working conditions, it holds Supply Day events and conducts supplier audits to verify compliance with Xylem's standards. Around 17% of US employees are covered by a bargaining agreement, which is a standard ratio.