Launched in 2015, 35 investors with AUM of US$2 trillion joined the PRI's collaborative engagement on corporate climate lobbying practices, targeting 21 companies across the following sectors.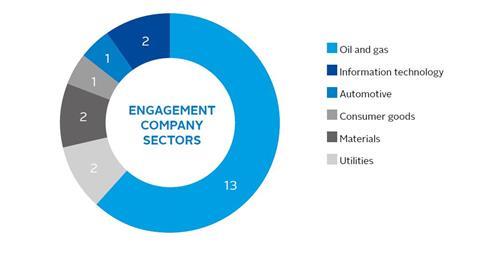 The engagement with companies focused on the following areas:
awareness and acknowledgement of direct and indirect climate lobbying practices;
associated policies and strategies and their implementation; and
relevant disclosure.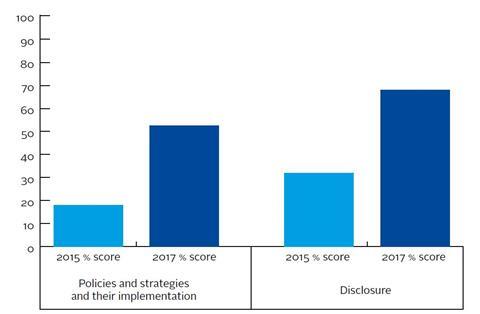 Company responses, publicly disclosed information and data provided by InfluenceMap were used to score the companies in 2015 at the beginning of the engagement and again in 2017 at its conclusion. Results and observations are discussed below.
Key findings
More companies have a policy covering lobbying; however, the majority do not specifically include climate-related policy engagement.
Where policies do exist, few assign responsibility at board or senior management level. Similarly, there is little commentary about the processes for identifying and addressing any inconsistencies between company views and those of third parties of which they are a member.
There is greater public disclosure from companies on their commitment to support a reduction in GHG emissions in line with the Paris Agreement. Furthermore, there is increased transparency on direct policy engagement relating to carbon taxes and trading, low carbon and renewable energy and greenhouse gas emission targets.
There is increased reporting of membership of third-party organisations that engage on climate issues, which has been seen through responses to CDP's Climate Change 2017 questionnaire. This has resulted in greater transparency of third-party climate positions and the extent of alignment with the companies' own positions.
However, even with improved disclosure, many companies still fail to disclose all of their memberships, particularly third-party organisations that are not industry associations. Reporting also tends to focus on industry associations with positive climate positions rather than those with a policy position inconsistent with that of the company.
Three-quarters of the companies do not clarify the actions they take where positions of third-party organisations do not align with their own.
Download the full report
Converging on climate lobbying: aligning corporate practice with investor expectations

May 2018
Converging on climate lobbying: aligning corporate practice with investor expectations
1

2

3

4

5

6

7

Currently reading

PRI collaborative engagement

8

9

10

11

12

13

14