As part of the PRI Fracking Engagement, a group of PRI investor signatories – led by Martin Currie, a UK-based investment manager – engaged with an Asian oil and gas company.
After numerous unsuccessful attempts to contact the organisation, Martin Currie found that as this was the company's first experience of this kind of engagement, it was at first difficult to identify an appropriate interlocutor who would act as the champion for this engagement process.
It was through face-to-face meetings with senior management of the company, after several months of trying, that they successfully secured a meaningful dialogue. This board-level influence was an important factor in the dialogue's success as it motivated key staff in the company to participate.
The dialogue focussed on the disclosure of fracking practices across the four key areas identified by the PRI commissioned research: governance, water, air emissions and community. The outcome was a significant improvement in the company's disclosure against the indicators:
Out of the 30 companies benchmarked, this company was the second highest in improving its disclosure score. In 2013, the company disclosed against only one of 56 indicators. This increased to 41% of the indicators across all four focus areas in 2016.
Fracking was addressed in the company's sustainability report.
It also released its first environmental, social and governance (ESG) shale report, which addressed water, air emissions and community engagement issues.
While there was improvement in the company fs disclosure across all four focus areas, some of the most substantial disclosure was on water. This was shown in a number of ways:
The company did not disclose any water-related information in 2013. This increased to a disclosure rate of 39% for the water metrics. It now discloses that it conducts a hydrological investigation on subsurface water before drilling and well construction takes place.
The company reports its commitment to well integrity standards to avoid impact on and contamination of groundwater supplies. Wellbores are constructed with four layers of steel casing and cement sheathing.
Seepage and pressure testing is conducted before a well is put into operation.
In addition, the company now discloses that it treats flowback and produced water to reduce wastewater discharge. The company recycles 100% of wastewater. The flowback and produced water are blended with fresh water for reuse in fracking operations.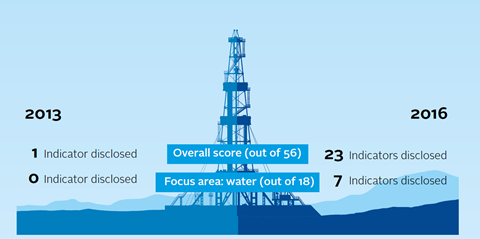 Download the full report
Engaging with oil and gas companies on fracking

January 2017
Engaging with oil and gas companies on fracking: an investor guide
1

2

3

4

Currently reading

Case study: Engaging to disclose fracking practices

5

6

7

8

9

10

11