AP6, the Sixth Swedish National Pension Fund, invests exclusively in unlisted companies. Since 2014, it has used its own template for sustainability assessment and monitoring of private equity funds. Over time, this has evolved from an ESG due diligence template to a valuable tool for the annual evaluation of responsible investment implementation practices in AP6's portfolio. In 2016, the model was adjusted to align with the PRI's LP Responsible Investment DDQ.
Structured interviews with GPs, either in person or over the phone, provide the basis for the evaluation. AP6 does not send out a questionnaire prior to the interview, but does review any relevant documentation beforehand to make the most of the available time. Interview topics include how the GP undertakes responsible investment practices in the investment and ownership phases, and how it reports on sustainability, both publicly and to investors.
AP6 scores a number of sub-categories to provide a total score for each of the three main categories (investment, ownership and reporting), which are then benchmarked against the portfolio average. The PRI LP Responsible Investment DDQ has been a useful aid to establishing the scoring criteria, e.g. through indicating what best practice looks like.
Structured feedback from the evaluation is provided to participating GPs through individual meetings, including observations on individual development as well as best practice among peers. This evaluation provides GPs with an idea of how their ESG efforts are being perceived and assessed, and an indication of where they stand in comparison to others.
In 2017, 17 private equity funds took part in the evaluation and feedback process.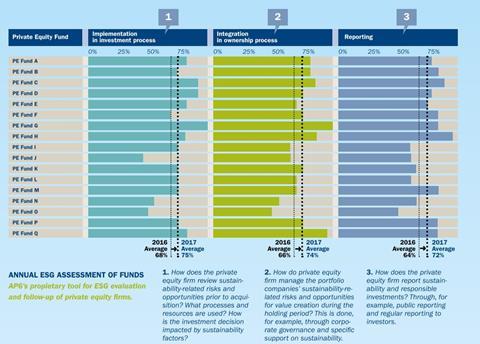 Download the full report
ESG monitoring, reporting and dialogue in private equity

June 2018