HESTA, the Australian national industry superannuation fund for people working in health and community services, has incorporated the PRI LP Responsible Investment DDQ into a comprehensive manager ESG Assessment framework. This framework includes an ESG Manager Assessment Feedback Pack to provide more formal feedback to managers, outlining how they have scored in each category (policy and oversight, integration pre-investment, internal and external resources, asset management, and manager and portfolio performance) and how each category is weighted by HESTA.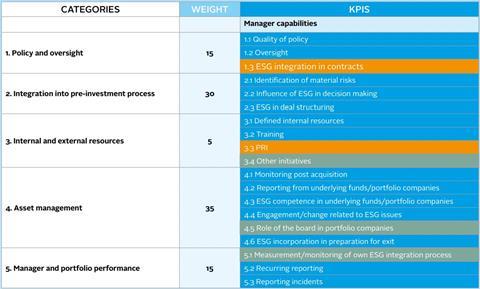 The objective of the feedback pack is to use it as an engagement tool with managers to communicate areas of strength and weakness and provide a benchmark of the manager's capabilities relative to its peers. HESTA uses the PRI LP Responsible Investment DDQ and other supporting documents, such as responsible investment policies and annual reports, to complete the assessment.

In 2018, the HESTA ESG team presented the consolidated results of the manager assessment of HESTA's key private equity manager relationships to the HESTA Investment Committee. The assessment results are one of the factors HESTA considers when making investment decisions such as whether to invest, or reinvest, in a manager.
HESTA is also working to integrate the UN SDGs into its investment strategy and active ownership practices. As part of this work, HESTA developed a methodology to measure the contribution to the SDGs across its portfolio. This includes a review of a large part of the private equity portfolio to understand how and if each underlying investment contributes to the targets listed under the goals.
HESTA also has a long-standing advocacy policy to help achieve SDG 5 (Gender Equality). This SDG is particularly important because 80% of HESTA's members are women. However, from an investment outcomes aspect, the main driver is the strong belief that diverse teams make better investment decisions. As part of this initiative, HESTA has surveyed all its investment managers, including private equity, to understand the level of gender diversity in their investment teams. As is the case with the manager assessments, HESTA intends to share the aggregated results and examples of best practices with its investment managers to encourage progress.
Download the full report
ESG monitoring, reporting and dialogue in private equity

June 2018