Case study by LGT Capital Partners
LGT Capital Partners is an alternative asset manager headquartered in Switzerland. LGT Capital Partners conducts an annual ESG assessment of its managers as part of the firm's larger ESG due diligence, monitoring and manager engagement process. This allows its investors to understand the extent to which portfolio managers are considering ESG factors in their investment, ownership and reporting practices. It also facilitates a dialogue with its managers on ESG, highlighting excellence in implementation and flagging areas for improvement.
LGT Capital Partners uses the PRI LP Responsible Investment DDQ, focusing on four key measures of ESG practice:
Manager commitment – the extent to which managers have demonstrated their commitment to ESG through actions such as defining a policy, committing to an industry initiative such as the PRI and engaging with their portfolio companies.
Investment process – the extent to which managers have formally integrated ESG into their investment processes, using it as a framework for evaluating investments and identifying areas for improvement.
Ownership – the extent to which managers have exhibited active ownership through activities such as defining ESG guidelines, establishing key performance indicators.
Reporting – the extent to which managers have provided regular and relevant reporting on ESG on a portfolio company level and on the aggregate fund level.
The firm has developed a scoring system to assess managers' responses, awarding a score of 1 to 4 (where 1 is excellent and 4 is poor) on each of the four measures, resulting in an overall rating for each manager. These ratings are then documented in LGT Capital Partners' monitoring system.
In 2018, LGT Capital Partners assessed 202 private equity managers in the US, Europe and Asia and published analysis of the ratings in its annual ESG report, which is available on its website.
LGT Capital Partners has seen a steady improvement in ESG practices and disclosures by its managers over the past five years, with the proportion of managers rated excellent or good rising from 27% in 2014 to 58% in 2018.
For more detail on what LGT Capital Partners considers good ESG practice from its managers, see its report on the subject, A guide to ESG implementation in private equity.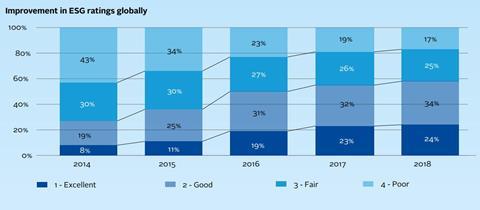 Download the full report
ESG monitoring, reporting and dialogue in private equity

June 2018
ESG monitoring, reporting and dialogue in private equity
1

2

3

4

5

6

7

Currently reading

Case study: LGT Capital Partners

8

9

10

11

12

13