About the PRI Leaders' Group
As part of our 10-year Blueprint for responsible investment, the PRI committed to showcasing leadership and increasing accountability, with a view to raising standards of responsible investment amongst all our signatories.
The Leaders' Group showcases signatories at the cutting edge of responsible investment, and highlights trends in what these leading signatories are doing. We have used signatories' reporting responses and assessment data to identify those that are doing great work in responsible investment, both across their organisation, and with a particular focus on a given theme each year.
Background
Extensive consultation with signatories in recent years has shown strong support for the PRI to use the reporting and assessment process to further differentiate signatories at different stages of implementing the Principles. This includes showcasing leadership to share good practice and encourage other signatories to improve their performance.
Methodology
The PRI Leaders' Group is based on a different theme each year. In 2019, the theme for the inaugural Leaders' Group was asset owners' selection, appointment and monitoring of external managers.
In 2020, the theme is climate reporting. All investor signatories – asset owners and investment managers – will be eligible.
To be considered for the Leaders' Group 2020, signatories must demonstrate a strategic approach to aligning their organisation with the FSB's Task Force on Climate-related Financial Disclosures (TCFD).
To assess this we will look at their publicly disclosed responses throughout the climate change reporting indicators of the Strategy and Governance (SG) module, as well as whether they report:
publicly expressing support for the TCFD
having a board-approved implementation plan in place
how their organisation is using scenario analysis;
considering both short- and long-term climate risks
working towards specific climate-related targets
Having screened all signatories against this year's theme, a combined score using responses from across the Reporting Framework will then be used to identify, from that pool, the Leaders' Group 2020.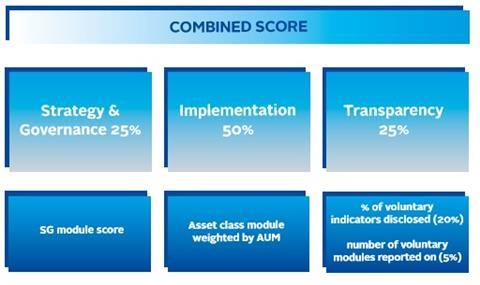 Independent TCFD reports
Alongside the screening criteria, we will look at whether potential Leaders have published – or can provide evidence they are working towards publishing – an independent TCFD report, and we encourage any potential Leaders to do so by the end of 2020.
What is the Leaders' group not?
…a ranking of signatories – the Leaders' Group identifies a group of leading signatories, it does not rank the signatories within it (nor those outside).
…an exhaustive list of all leading practices – it identifies a group of leading signatories, and the associated commentary highlights trends and common practices amongst that group. Other leading practices might exist that this approach does not capture.
…PRI validation of signatories' reported data – while the PRI encourages signatories to pursue assurance mechanisms, the Leaders' Group is based on the same self-reported data that underpins all PRI reporting and assessment.