A Climate Transition Forecasting Consortium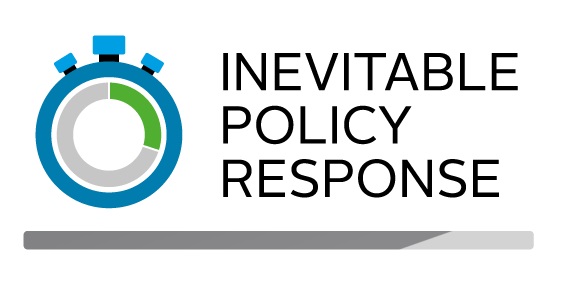 The Inevitable Policy Response (IPR) is a project which aims to prepare institutional investors for the portfolio risks and opportunities associated with a forecast acceleration of policy responses to climate change. IPR contends that governments will be forced to act more decisively than they have thus far, leaving financial portfolios exposed to significant transition risk.
Commissioned by PRI in 2018, the Inevitable Policy Response is led by Vivid Economics and Energy Transition Advisors (ETA). Combined with Research Partners and investor Strategic Partners, this forms a Climate Transition Forecasting Consortium.

IPR 2021 Policy Forecast – Executive Summary
Government action to tackle climate change remains insufficient to achieve the commitments made under the Paris Agreement. Yet as the realities of climate change become increasingly apparent, it is inevitable that governments at national and international levels will be forced to act more decisively than they have so far.
The question for institutional investors has become is not if governments will act, but when they will do so, what policies they will use and where the impact will be most felt.
The IPR project forecasts an acceleration in responses to 2025, driven in part by the 2023 Paris Stocktake and the pending 2025 Ratchet. IPR assesses that those responses will be increasingly forceful, abrupt, and disorderly. This is the Forecast Policy Scenario (FPS).
In October this year IPR will also publish a 1.5C Required Policy Scenario (RPS) outlining the more ambitious policies that would be required to reach a 1.5C outcome.
The Forecast Policy Scenario (FPS)
Vivid Economics and Energy Transition Advisors have built a Forecast Policy Scenario (FPS) which lays out the policies that are likely to be implemented in the 2020's and quantifies the impact of this response on the real economy and sectors.
IPR publish detailed modelling of the impact of policy acceleration:
On key sectors, regions;
On the implications for land use; and
On the macroeconomy
Investors should act now to protect and enhance value by assessing the implications of the IPR Forecast for investment beliefs, portfolio risk and opportunities.
The greater the delay in responding, the greater the potential cost.
What makes the IPR FPS unique?
The FPS provides investors with a unique tool for navigating a complex, evolving policy and regulatory landscape – to enhance portfolio resilience and inform strategic asset allocation.
Provides a realistic outline of the coming policy response through the 2020's and quantifies the financial risks that it presents.
Is based on working up from what policy and technology developments are most likely to emerge, rather than working backwards from pre-defined target temperatures.
Focused on a timeframe that is relevant to investors.
Models the interaction between impacts of the macro economy, the energy system and the land use system.
Provides a granular analysis that breaks down the impact at the regional, sector and – for the first time – asset level.
The results are part of an ongoing process, as we continue to update and refine our modelling in response to major external developments and with feedback from stakeholders.
Our forecast of an Inevitable Policy Response provides an alternative to the IEA STEPS as a business planning case for investors, corporates & regulators to consider
October Launches –2021 Forecast Policy Scenario (FPS) & a new 1.5C Required Policy Scenario (RPS)
The first full FPS was published in 2019 and then the forecast policies updated in March 2021 This October 2021, IPR has released a full 2021 Forecast Policy Scenario and also a new 1.5C Required Policy Scenario (RPS). The RPS specifically targets a 1.5C outcome and reflects the policy gap between the IPR FPS forecasts of what will happen and the level of policy change required to achieve a 1.5C outcome.
The Required Policy Scenario (RPS): Reaching for 1.5C
The Paris Agreement calls for an outcome well below 2 degrees. There has become a strong preference for a Net Zero 2050 1.5C with minimal use of Negative Emissions Technologies and CCS. This has been reflected in the recent IEA NZE scenario from May 2021.
In order to explore this further IPR is doing its own additional study to the FPS– a 1.5 C Required Policy Scenario (RPS). This is a stringent scenario explicitly designed to assess the policy gap between the FPS and the RPS and, in absolute terms, explore what a stringent 1.5C scenario does require.
IPR will produce the first RPS highlights with updated FPS at PRI Digital Conference in October 2021.
The 2019 Forecast Policy Scenario (FPS) facilitates discussion around a business planning case to assess climate-related policy risk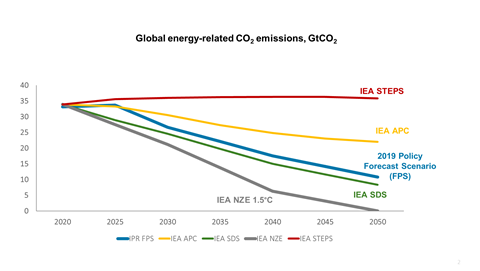 How can climate policy be realistically forecasted in the near term?
As discussed in our March 2021 Policy Acceleration paper, governments have been moving faster in the last 18 months. COP26 in November might push this further. But an emissions gap will remain, and future policy responses will be needed to address this gap.
The realities of climate change will inevitably catch up with governments across the globe – and they are beginning to.
Pressure for policy action will continue to increase and come from all angles – environmental, social, and economic - fuelled by fears over national security; enabled by advances in technology and upward pressure by civil society, leading investor groups and businesses to act.
Forecasting the acceleration and when the policy responses will come
Far more so than in the past, these triggers are aligning actors in a common direction. At the same time, the Paris Agreement 'ratchet mechanism' – starting with the delayed COP26 in November 2021, the Global Stocktake in 2023 and leading to the third round of climate pledges of the 2025 – Paris Ratchet increases the likelihood that policy announcements to tackle climate change will accelerate within this period.
This is the focus of the FPS. The RPS calls for much more ambitious policy action.
The Paris Agreement's "ratchet mechanism" increases the likelihood that governments will strengthen policy by 2025 and again to 2030
2021
Countries communicate their updated or 2nd round of climate pledges
---
2023
Global stocktake on climate, mitigation and finance
---
2025
Countries submit their 3rd round of climate pledges (NDCs)
Policy announcements are expected to accelerate in 2023-2025
---
Policy announcements are expected to accelerate in 2023-2025
Higher ambition- Eight Policy Levers
IPR has forecast higher ambition across eight policy levers to secure an accelerated and just transition
'Just Transition' lens to ensure social and political feasibility
The Top 10 forecasts of where the impact will be felt in FPS
The IPR FPS analyses in detail the policies we expect to see, and where they will have impact.
They include bans on coal, and on internal combustion engines; an increase in nuclear capacity and bioenergy crops; greater effort on energy efficiency and re/afforestation; wider use of carbon pricing including Carbon Border Adjustment Mechanisms (CBAM) and increasing the supply of low-cost capital to green economy projects.
Carbon Emissions

1.

Carbon Border Adjustments Mechanisms (CBAMs) for carbon will become increasingly a policy option. This could lead the United States to announce a national carbon pricing system as early as 2023, and we forecast by 2025, and signal a strong carbon price path to reach a backstop of $65 by 2030.

2.

The European Union's evolving commitments will deliver substantial carbon prices. By 2030, we expect EU policy to backstop an EU ETS carbon price of $75/tCO2 to ensure long term action toward decarbonization in heavy emitting sectors.

Coal

3.

In India, rapidly evolving Indian policy and prospects for market reforms and pricing has already ended further investment in new coal.

4.

China will end construction of new coal fired power production after 2025, driven by new policies to facilitate its 2060 net zero target and ongoing market liberalisation.

5.

The United States will end all coal fired power generation by 2030, through a combination of emission performance standards and carbon pricing at the Federal and State levels, combined with market forces.

Clean power

6.

The United States will implement a binding and credible 100% clean power standard for 2040, ending unabated fossil electricity generation.

Zero emission vehicles

7.

China, France, Germany, Italy and Korea will end the sale of fossil fuel cars and vans in 2035. Jointly these large markets will accelerate the auto industry transition to electric drive, and precipitate further policy action internationally.

Industry

8.

All major industrial economies including the US, Germany, Japan and China will require all new industrial plants, led by steel and cement, to be low carbon by 2040, through a combination of emissions performance standards and carbon pricing.

Agriculture

9.

The US, Canada, Australia and other major agricultural producers will have comprehensive mitigation policy in place by 2025 to reduce emissions from production of crops and livestock.

Land use

10.

Major tropical forest countries will end deforestation by 2030, with domestic policy responding to international climate finance and corporate supply chain pressures.
Acting now to protect and enhance value
The PRI encourages signatories to engage in forward looking analysis and strategic planning to better prepare for transition and mitigate financial losses associated with the IPR.
Careful attention is recommended for strategic asset allocation, portfolio structure, governance approaches, and risk management responses.
Specific actions include:
Creating governance / board approval of IPR as part of the 'house view' of climate transition.
Preparing for a more 'active' stance in portfolio construction around the transition theme.
Embedding aspects of IPR forecasts into asset manager mandates with associated changes to mandate incentives.
Encouraging asset managers to build products around IPR forecasts.
Placing IPR as a core reference standard in ongoing TCFD disclosures.
Requesting asset consultants to build IPR into SAA and portfolio construction.
Requesting credit ratings agencies to incorporate IPR into assessments.
Use of IPR as a reference standard in stewardship activities and company engagement
Lobbying policymakers on the inevitability of IPR scenarios to encourage early action
Engagement with PRI Signatories – Webinars and Workshops
Following the launch of the updated FPS & RPS at the PRI Digital Conference in September, a program of joint regional webinars and workshops in November and December will be convened where signatories have will the opportunity to review in detail updated IPR forecasts, the RPS and the implications for investment beliefs and directions.
For more information, please contact us at IPR@unpri.org
What is the Inevitable Policy Response?
1

Currently reading

What is the Inevitable Policy Response?

2

3

4

5

6