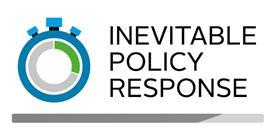 Financial markets today have not adequately priced-in the likely near-term policy response to climate change. The Inevitable Policy Response (IPR) is a pioneering project which aims to prepare investors for the associated portfolio risks.
Commissioned by PRI, research consortium led by Vivid Economics and Energy Transition Advisors.
IPR 2021 Policy Forecast – Executive Summary
Government action to tackle climate change has so far been highly insufficient to achieve the commitments made under the Paris Agreement, and the market's default assumption appears to be that no further climate-related policies are coming in the near-term. Yet as the realities of climate change become increasingly apparent, it is inevitable that governments will be forced to act more decisively than they have so far.
The question for investors now is not if governments will act, but when they will do so, what policies they will use and where the impact will be felt. The IPR project forecasts a response by 2025 that will be forceful, abrupt, and disorderly because of the delay.
In anticipation, PRI, Vivid Economics and Energy Transition Advisors are building a Forecast Policy Scenario which lays out the policies that are likely to be implemented in the 2020's and quantifies the impact of this response on the real economy and financial markets. The IPR can be seen as a first step towards 1.5C but explores the need for more policy and technology solutions to get there.
We have published detailed modelling of the impact:
On the macroeconomy;
On key sectors, regions, and asset classes including equity markets;
On the implications for land use.
Investors need to act now to protect and enhance value by assessing the implications of the IPR Forecast for portfolio risk. The greater the delay in responding, the greater the potential cost.
What makes the IPR forecast unique?
The Forecast will provide investors with a unique tool for navigating a complex, evolving policy and regulatory landscape – to enhance portfolio resilience and inform strategic asset allocation.
It provides a realistic outline of the coming policy response in the 2020's, and quantifies the financial risks that it presents.
Rather than working backwards from pre-defined target temperatures, it is based on working up from what policy and technology developments are most likely to emerge.
It is focused on a timeframe that is relevant to investors.
It models the interaction between impacts of the macro economy, the energy system and the land use system.
It provides a granular analysis that breaks down the impact at the regional, sector and – for the first time – asset level.
The preliminary results will be the first step in an ongoing process, as we continue to update and refine our modelling in response to major external developments and with feedback from stakeholders.
Our forecast of an Inevitable Policy Response provides an alternative to the IEA as a business planning case for investors, corporates & regulators to consider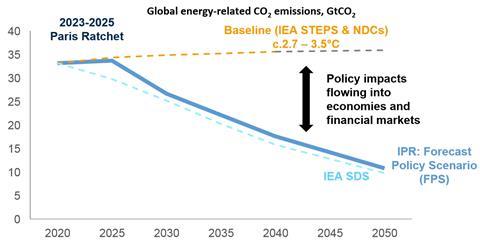 How can climate policy be realistically forecasted in the near term?
There are few signals that governments will act forcefully on climate change in the next 2 years. But this situation is not sustainable – and 2023-25 is the critical period.
The realities of climate change will inevitably catch up with governments across the globe – and they are beginning to. Pressure for policy action will continue to increase and come from all angles – environmental, social, and economic - fuelled by fears over national security; enabled by advances in technology and upward pressure by electorates and businesses to act.
Forecasting when the first policy response will come
Far more so than in the past, these triggers are aligning actors in a common direction. At the same time, the Paris Agreement 'ratchet mechanism' – starting with the Global Stocktake 2023 and leading to the third round of climate pledges in 2025 - increases the likelihood that policy announcements to tackle climate change will accelerate within this period. In order to achieve 1.5C, further ratchets will be needed in the 2030's
The Paris Agreement's "ratchet mechanism" increases the likelihood that governments will strengthen policy by 2025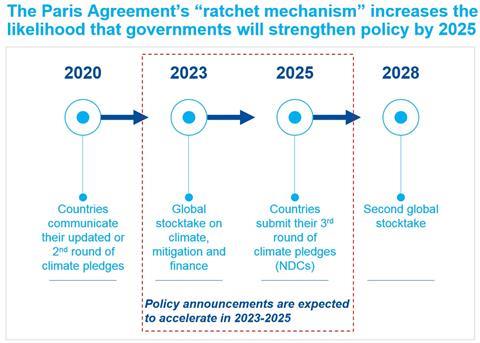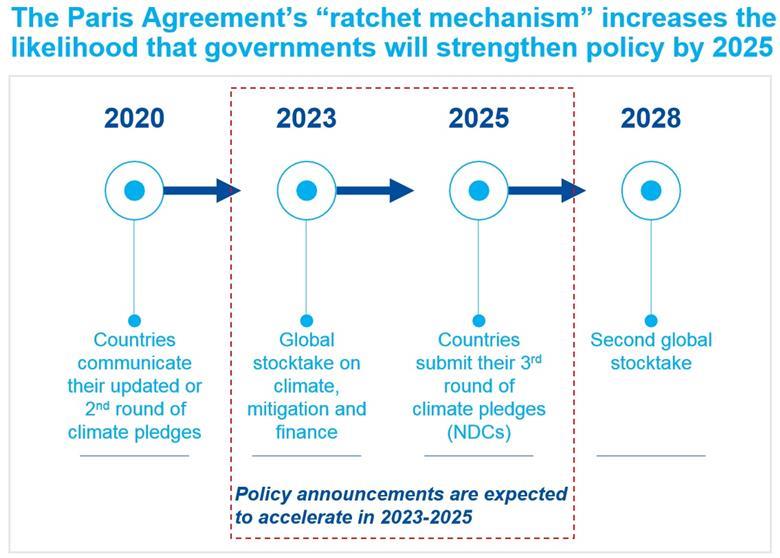 Forecasting what policies will be used and where the impact will be felt
The most likely policy levers that governments will use to tackle climate change are starting to emerge. The IPR project analyses in detail the policies we expect to see, and where they will have impact.
They include bans on coal, and on internal combustion engines; an increase in nuclear capacity and bioenergy crops; greater effort on energy efficiency and re/afforestation; wider use of carbon pricing and increasing the supply of low-cost capital to green economy projects. The full details of this analysis will be released at PRI in Person.
The most likely policy levers to secure an accelerated and just transition are starting to emerge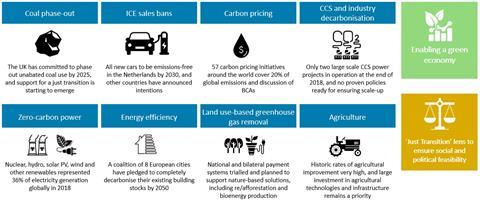 Act now to protect and enhance value
The PRI encourages investor signatories to engage in forward looking analysis and strategic planning to better prepare for transition and mitigate financial losses associated with the IPR. Careful attention is recommended for strategic asset allocation, portfolio structure, governance approaches, and risk management responses. Specific actions include:
Preparation of an IPR plan
Review investment committee role on IPR
Encourage asset managers to respond via IPR product offering
Consider FPS in TCFD disclosures
Ask asset consultants to build capability and understanding of IPR
Ask credit ratings agencies to incorporate IPR
Amend service provider mandates for IPR with new incentives
Form collaborative leadership group to discuss asset owner role during IPR
PRI will be running a programme to support investors in how to do this, to get involved contact us at IPR@unpri.org
Aspiring to 1.5o C: How does the IPR forecast relate to limiting warming to "well below 2o C"?
As the IPR forecast is primarily aimed at demonstrating latent risk in investor portfolios, it differs from climate scenarios by working up from probable policy and technology developments, rather than working back from a pre-defined target temperature.
For those that aspire not merely to better price in policy developments, but to themselves contribute to goals such as the Paris Agreement target of limiting warming to 1.5o C, or to reach net zero emissions by 2050, the PRI encourages such ambition. The IPR forecast highlights the challenges such an ambition will need to overcome given current political and technological realities, and pinpoints specific areas where stakeholders need to act now to achieve such goals. It represents the most credible start in the 2020's, requiring more action in the 2030's
Reaching a 1.5 degrees outcome is a far bigger challenge - Further Policy action will be needed.