By evidencing how corporations experience ESG engagement, unpacking the dynamics through which multiple forms of value are created for corporations and investors, and contrasting corporate and investor perspectives about the value of engagement, our analysis has resulted in a number of key insights. These insights have implications for current and future engagement practice, and serve as the basis for our recommendations provided in our Executive Summary.
As summarised by Figure 1, our results place most emphasis on the deeply relational dimension of engagement, and invite engagement practitioners (companies, investors and the PRI) to consider engagement not only as a relationship that allows for ESG issues to be collectively discussed and addressed, but also as a space within which communication, knowledge, and power, flow in ways that create (potentially) unintended benefits on the investor as well as on the corporate side.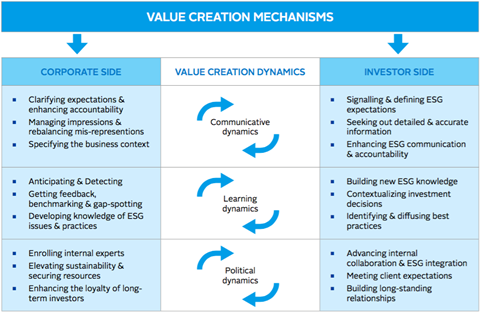 Future empirical studies of engagement could rely on methods such as fuzzy-set Qualitative Comparative Analysis (fs/QCA)3, to study how value-creating dynamics combine to explain the success of engagement from both corporate and investor perspectives. More research access to investors' proprietary datasets, and the possibility to conduct in vivo ethnographic studies or observations of engagement, could also further advance our knowledge of the micro-dynamics (e.g. impression management, rhetorical strategies) that underlie corporate-investor ESG engagement dialogues.
Ultimately, in uncovering three value-creating dynamics, and providing a vocabulary to understand and explain what is at stake through the practice of engagement, we hope that this report will help practitioners to continuously improve their engagement practices to make them as value-creative as possible.
Download the full report
How ESG engagement creates value for investors and companies

April 2018
How ESG engagement creates value for investors and companies
1

2

3

4

5

6

7

8

9

10

Currently reading

Conclusion