From October 2009 through September 2012, a group of 16 PRI signatories representing US$635 billion in assets under management engaged with consumer electronics companies in the US, Europe and Japan.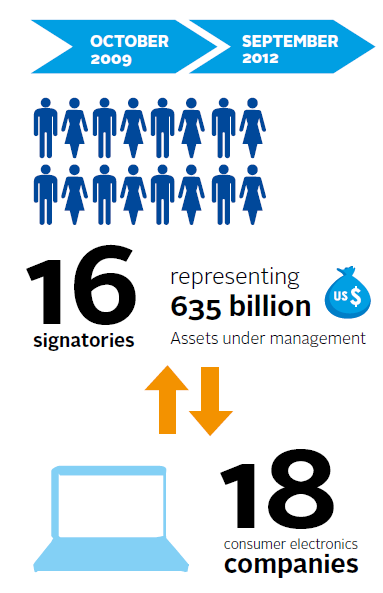 The goal was to engage in a dialogue to ensure the companies' supply chain policies and practices were transparent and sufficiently robust to address risks of reputational damage and consumer boycotts from involvement in the ongoing conflict in the Eastern Congo.
A group of investors led by Hermes Fund Managers sought to engage with 16 global consumer electronics companies to request: (a) public disclosure of policies regarding the sourcing of minerals from the Eastern Congo, and: (b) implementation of external verification systems and monitoring procedures on suppliers' stated practices. Eleven responses were received from companies and investors subsequently held a total of 18 meetings with the companies. In parallel to the collaborative engagement, several investors in the group actively participated in the development and adoption of the SEC's Conflict Minerals Provision rule (Section 1502) of the Dodd-Frank Act passed by the US Congress in 2012.
This engagement achieved positive results. Based on an evaluation of company performance and disclosure among the 16 companies carried out by the investor group following the PRI engagement evaluation framework 15, scores for overall company performance increased by an average of 23% from 2010 to 2011. Improvements were seen in the area of public disclosure, including of relevant policies and strategies, and in implementation measures - including greater measures to monitor the activities of suppliers, taking steps to meet targets, and participating in sectoral initiatives related to external verification.
In August 2012, the SEC passed Section 1502 (the 'Conflict Minerals Provision') of the Dodd-Frank Wall Street Reform and Consumer Protection Act, which requires companies listed on US exchanges to disclose their use of conflict minerals originating in the Congo to the SEC. Improved company performance over the course of the engagement and companies' willingness to engage in dialogue was driven in part by the anticipation of this new legislation. The expectation of potential regulatory requirements created a strong business case for companies to take the issue seriously and to engage with investors on this topic. This illustrates the importance of the regulatory environment in influencing company behaviour and the value in pursuing engagement with policymakers alongside company dialogues. Several investors in the group were active in lobbying for the issuing of the SEC rule.
Getting started with collaborative engagement
1

2

3

4

5

6

7

8

Currently reading

Case study: SEC's Conflict Minerals Provision

9