2012 marked the fifth year Aviva Investors led the collaborative engagement with UN Global Compact member companies on their Communication on Progress (COP).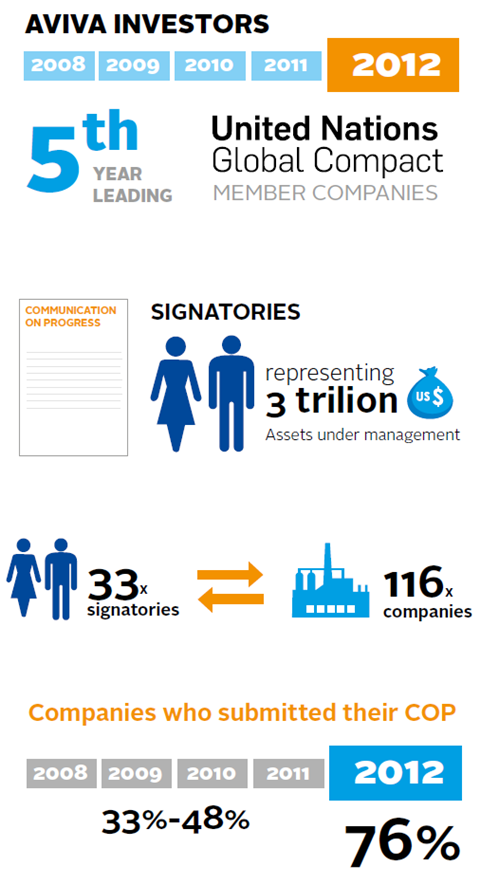 PRI signatories representing US$3 trillion in assets under management joined together to: (a) welcome advanced-level reporting among some companies, and; (b) encourage non-communicating companies to submit their COP and regain active status in the UN Global Compact.
Aviva, along with 32 PRI signatories, corresponded with 116 companies in total, including 25 who were not communicating. Investors and the PRI Secretariat followed up directly with all non-communicating companies via email or phone and engaged the UN Global Compact's local networks to identify appropriate company contacts when needed.
By the close of the engagement in December 2012, 19 companies (76%) submitted their COP, regaining their active status. In previous years, this engagement had seen between 33%-48% of previously non-communicating companies submit their Communication on Progress following the engagement.
Finding the right contact point within a company was key to success. In many cases, companies moved quickly to submit their COP once the right point of contact was established. Consistent and frequent email and phone follow-up appeared to further enhance this engagement, as did having local-level contact points. The engagement proposal and request of companies was also clear and straightforward, which allowed for broad support by PRI signatories.
Getting started with collaborative engagement
1

2

3

4

5

6

Currently reading

Case study: Communication on progress (COP)

7

8

9