Between February 2010 and February 2013, a group of 23 PRI signatories representing US$2.8 trillion in assets under management conducted a collaborative engagement to improve the quality of disclosure through the CDP among carbon-intensive portfolio companies.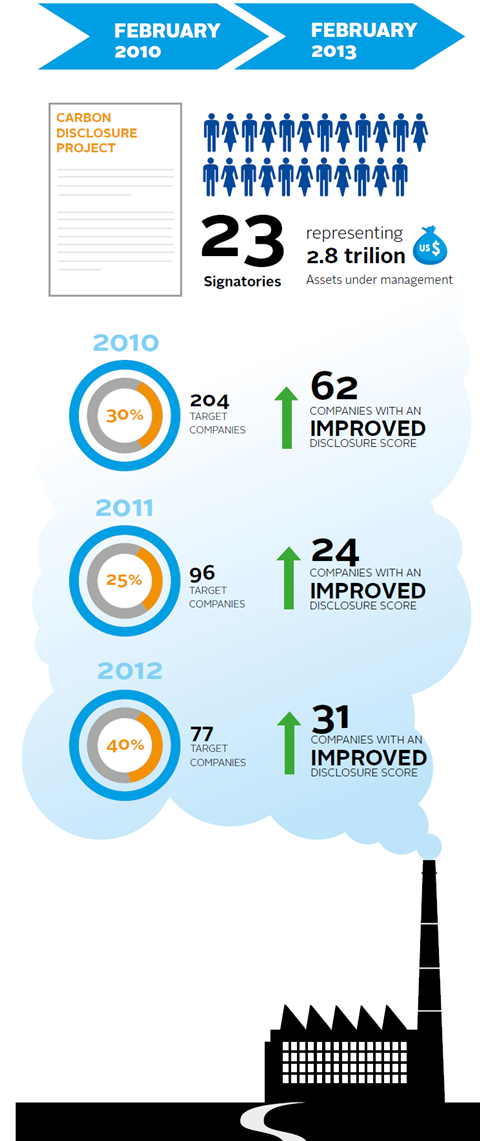 During the annual CDP questionnaire response period (February – May), the investor group sent a joint letter to companies in emissions-intensive sectors whose climate disclosure score had been in the bottom quartile among respondents in the previous year. Investors then followed up through phone calls or meetings with a subset of target companies to discuss strengths and weaknesses in their climate disclosure, reiterate the value of this information for investors, and encourage them to improve the quality of information provided in the next questionnaire.
In 2010, 62 (30%) of the 204 companies engaged with improved their disclosure score to the extent that they were no longer in the bottom quartile of respondents in CDP 2010. In 2011, 24 (25%) of the 96 companies followed suit, and in 2012, 31 (40%) of the 77 companies did so. Highlighting the importance of follow-up dialogues, as opposed to writing stand-alone letters, among the 12 companies followed up in 2011, 50% subsequently moved out of the bottom quartile, while in 2012, seven (58%) of the 12 companies where there was follow-up dialogue moved out of the lowest quartile.
The CDP is a well-known and widely supported investor initiative, and its Disclosure Index provides a clear, transparent benchmark that is useful for both investors and companies. During the research and dialogue stages of the engagement, investors made good use of the CDP data and benchmark, which facilitated high-quality conversations on disclosure weaknesses. The index provided a clear illustration of the quality of companies' disclosure in comparison to peers, which motivated companies to improve their disclosure scores. Follow-up dialogue proved crucial in improving the overall success of the initiative.
Getting started with collaborative engagement
1

2

3

4

5

Currently reading

Case study: Carbon Disclosure Project

6

7

8

9