Energy efficiency is often associated with clean technology companies, green energy enterprises and smart or eco products (such as washing machines that consume less energy or hybrid cars). Broadly speaking, it is a concept that focuses on the products, services, technologies and infrastructure that help organisations, companies, households and individuals reduce their energy consumption, use clean energy sources or implement systems and management tools to improve energy use.
For instance, a company that focuses on building and managing green buildings could be considered as an energy-efficient company. A car manufacturer that uses solar panels to reduce energy consumption from the grid by 30% could also be labelled as an energy-efficient factory. A company that develops an application to monitor household energy consumption, such as Chain Energy, Smappee and other services can also be defined as clean tech or energy-efficient companies. Lastly, some companies may use less energy to produce a product, while others provide crucial components to the production of goods that facilitate low energy consumption.
"One of the main reasons why I am a strong believer in mainstreaming impact investing is that I feel the need to put an end to the socialisation of negative externality costs. Yesterday's actions are today's risks and will be tomorrow's costs. It would seem much more appropriate if the 'polluter pays' principle was applied on a broader scale. The Impact Investing Market Map is a useful tool in helping identify companies and approaches that generate returns while being aligned with the long-term well-being of people and the planet".

Nils Meinefeld, Senior Portfolio Manager, RMA Asset Management
Investments in energy efficiency also flow into different areas and fields. A study by the International Energy Agency (IEA) showed that investments of US$230 billion were made in energy efficiency businesses in 2016. Of that total, US$61 billion was allocated to transport, US$37 billion to industry and US$133 billion to buildings. According to the IEA, energy efficiency investment now represents 13.6% of the $1.7 trillion invested across the entire energy market.
Due to the multiple uses of and innovative approaches to investing and working in energy efficiency, it is difficult to categorise and define companies in this field based on areas or topics, including differentiating between impact investing and mainstream companies.
The PRI reviewed several regulations, UN reports and studies ranging from The World Economic Forum to energy companies and multilateral development agencies to define energy efficiency for impact investing companies. It was not possible to identify definitions for all areas of energy efficiency, or to distinguish an impact company from a mainstream company. A more mainstream approach to defining impact investing companies was therefore taken using the definitions provided by major data providers such as MSCI, FTSE and ODYSSEE, as well as case studies developed by specialist fund managers and companies that invest in this field.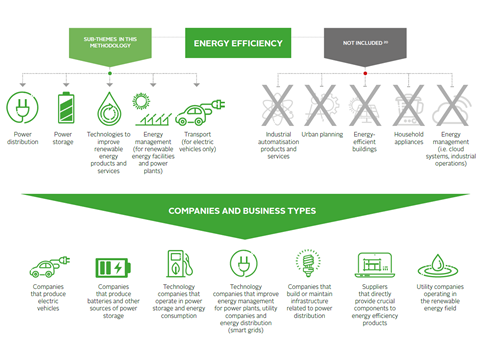 The PRI removed definitions that included fossil fuel and non-renewable energy sources; broad definitions that included energy efficiency companies that depend on or reduce the energy consumption of fossil fuel energy and nuclear energy; common household appliances such as refrigerators, televisions or electric bulbs; and companies that do not work directly in energy efficiency.
For this thematic investment, the PRI and project stakeholders agreed that the definition of energy efficiency should align with other thematic areas of the Market Map and should focus on improving the efficiency of renewable energy products, services, technologies and infrastructure. Other energy efficiency products and services outside of this frame are considered as mainstream investments.
Definition: Energy efficiency
Products, services or infrastructure projects supporting the development or delivery of renewable energy and alternative fuels, including: generation, transmission, and distribution of electricity from renewable sources including wind, solar, geothermal, biomass, small scale hydro (25MW), waste energy, and wave and tidal.

MSCI (adapted)
Download the full report
Impact investing market map

August 2018
Impact investing market map
1

2

3

Currently reading

Energy efficiency

4

5

6

7

8

9

10

11

12