Affordable housing is crucial for social development and social equality; around 1.6 billion people are housed inadequately, of which around one billion live in slums and informal settlements. Between $300 billion and $400 billion in mortgage issuance a year could be needed by 2025 to fund purchases of new affordable housing – equal to about 7% of global new mortgage origination volume in 2025.
While affordable housing is an urgent need for marginalised groups and low-income populations, there is also a huge need to fill this gap in emerging and developed economies. Over 11.4 million extremely low income (ELI) renter households in the US – whose income is no more than 30% of their area median income or the poverty guidelines – face a shortage of 7.4 million affordable and available rental homes. Nationally, only 35 affordable homes are available for every 100 ELI renter households and there is a shortage in every state and major metropolitan area.
"Social and affordable housing is one of the key sectors where investors can make a difference to reach multiple Sustainable Development Goals, including the fight against poverty (SDG 1), and sustainable cities and communities (SDG 11). There is a need to bridge the gap between finance and projects to deliver more responsible investments in housing for those people and communities that need it most. The PRI's new Impact Investing Market Map provides a crucial tool for investors to guide their responsible investment decisions in the affordable housing sector."

Sébastien Garnier, Managing Director, AxHA
In other countries, this gap is even bigger, creating heavy economic and social impacts on societies. A study by McKinsey & Company revealed that the housing affordability gap is equivalent to $650 billion per year, or 1% of global GDP. The gap exceeds 10% of local GDP in some of the world's least affordable cities. But to replace today's sub-standard housing and build additional units by 2025 would require an investment of $9 trillion to $11 trillion for construction; with land, the total cost could be $16 trillion. Of this, $1 trillion to $3 trillion may have to come from public funding.
However, countries define affordable housing differently and there are no international standards that can provide a common definition and general direction for this industry. The PRI reviewed more than 30 national regulations and still could not identify common baselines in this sector.
Some investors and governments use a variety of concepts in their affordable housing projects and programmes, from low-cost housing (usually adopted by international development agencies for projects in Africa, Asia and Latin America), to social housing (usually associated with student housing and low income groups that are not interested in owning a house in the short term), and inclusive housing (housing investments and programmes that aim to integrate marginalised communities in urban centres, and gender and ethnic inclusion in housing projects and investments).
Some governments adopt policies and projects related to public housing for renting, while others invest in affordable housing for low-income home owners. An OECD study identified that "not all reporting countries have social rental housing. Chile and Mexico for instance tend to favour affordable housing solutions offering low cost home ownership. By contrast, Sweden has a significant rental sector but, strictly speaking, no social rental housing as rents in municipal housing are in line with those in the private rental sector."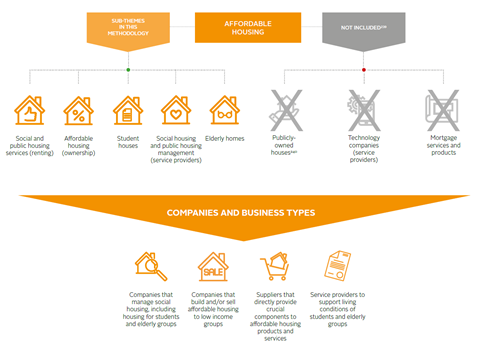 In terms of renting, the gap between social rents and market rents varies across countries. While average social rents are 80%-90% of market rents in Austria, Finland, Slovenia and Switzerland, they are as low as 15% of market rents in Estonia, about 30% in Lithuania and 40% in Luxemburg.
Regarding ownership, in the UK, affordable housing is determined based on local income (usually below £18,000 per year) and local house prices. However, Australia's definition of affordable housing is different; for the New South Wales Government, it is usually considered as affordable if it costs less than 30% of gross household income. The US defines affordable housing in terms of realised income earned relative to the area median income (AMI); very low income households earn no more than 50% of the AMI.
Furthermore, some regional or local governments have public housing initiatives (i.e. student and elderly housing) that follow a specific legislation or regulation that may not be covered in a national affordable housing policy. Countries usually take different approaches when measuring and investing in affordable housing in metropolitan and rural areas. In addition, most studies and reports on affordable housing are based on self-reported definitions and small sample sizes.
These limitations make it difficult to identify trends in terms of affordable housing definitions and financial conditions. The PRI reviewed dozens of studies, UN conventions and company benchmarks in this field and developed basic criteria that was reviewed and assessed by project partners.
Definition: Affordable housing
Companies that invest in housing projects, services and infrastructure for which the associated financial costs are at a level that does not threaten or compromise the occupants' enjoyment of other human rights and basic needs and that represents a reasonable proportion of an individual's overall income.

IRIS, GIIN
Download the full report
Impact investing market map

August 2018
Impact investing market map
1

2

3

4

5

6

7

8

9

Currently reading

Affordable housing

10

11

12