Education is a basic human right covered by the UN and the SDGs. The World Bank identifies education as a powerful driver of development and one of the strongest instruments for reducing poverty and improving health, gender equality, global peace and stability.
Recent studies suggest that lower gender ratio gaps in education contribute to poverty reduction and economic growth. One study revealed that, on average, people who have completed at least lower secondary education have 50% more knowledge about HIV and AIDS than people with no education. Education is also linked to conflict risk reduction: in 55 low and middle-income countries, the probability of conflict more than doubled from 3.8% to 9.5% when educational inequality doubled in 2015. In broad terms, investments in education can directly and indirectly tackle nearly each of the 17 SDGs.
While access to education has dramatically increased over the past decade, millions of children still do not have access to education, and many of those who do receive limited and low-quality services. A recent estimate showed that inflation and stagnation of investments meant that the funding gap needed to provide basic education for all has increased to US$26 billion.
In about one in three countries, less than three-quarters of teachers are trained to national standards, resulting in 130 million children enrolled in school but still not learning the basics. Some 260 million children are still out of primary and secondary school, and 250 million globally still cannot read or write. In addition, according to UNESCO estimates, 130 million girls between the age of six and 17 are out of school and 15 million girls of primary school age—half of them in Sub-Saharan Africa— will never enter a classroom.
"The PRI Impact Investing Market Map is a valuable resource for the global impact economy and provides guidance to key stakeholders including asset owners, managers and social enterprises to help define impact investment and impact investing processes. The Market Map brings together existing global impact frameworks, methodologies and metrics to measure and scale impact."

Michelle Di Fabio, Managing Director, SGA
The examples above highlight some of the challenges, and opportunities, related to education. Many emerging and low-income countries lack proper investments in education programmes and facilities. In recent years, low income countries have increased spending on education from an average of 2.9% of GDP to 3.8%. Yet, many governments in the developing world cannot meet the enormity of their citizens' education needs, meaning significant gaps in funding, quality and access remain.
Private investors can support public sector education goals in different ways, from financing student access to colleges and higher degrees (i.e. Master's, MBA, PhD), to running education facilities (both privately-owned or under concessions/PPPs) and training teachers to provide technology-based educational services in remote areas in emerging countries – Bridge International Academics is an example here.
A UNESCO study found that private commercial funding accounts for an estimated US$500 billion of $2.5 trillion spent annually on education, excluding private household spending on education.
While it is important to differentiate mainstream and impact investments in this field, there are no certifications, global networks or responsible impact investing initiatives available. In many cases, impact investing companies operating in this theme differentiate themselves based on social commitments targeting low income and marginalised groups, or defining strategies that support gender equality and other social goals. In addition, it is important to highlight that impact investments in education account for only a small share of overall education funding.
The sector is still in its infancy, meaning "large international players still dominate the landscape and most investors are taking a gradual, opportunistic approach to building their education portfolios. The lack of innovations restricts deal flow and limited examples of success heightens perceptions of risk, so funders have clustered around either proven, for-profit models targeting those who can already afford to pay, or grant-like models to reach more vulnerable beneficiaries".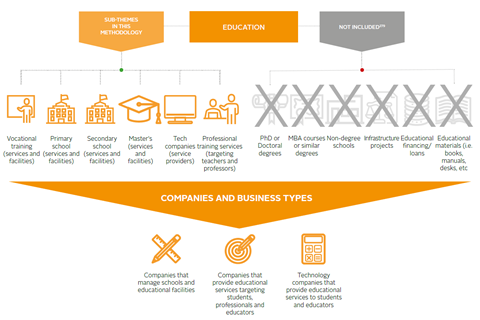 The PRI reviewed national regulations on education; UN conventions (including the UN Convention on the Elimination of All Forms of Discrimination against Women, the Convention on the Rights of the Child, the UN Convention on the Rights of Persons with Disabilities, and The Universal Declaration of Human Rights); company reports on investments in education; and indexes (i.e. MSCI and FTSE) to find basic conditions and baselines to identify impact investing companies in education.
The PRI did not identify a specific UN convention or declaration to define investments or companies in the educational field. However, supporting references such as UN conventions and declarations on the theme, including the SDGs, the United Nations Declaration on Human Rights Education and Training, and the Human Rights Council Resolution on the Right to Education, were used to develop a basic definition.
The PRI identified that the SDGs provide a good baseline to differentiate mainstream and impact businesses, as well as public policies adopted by some countries in this field.
For education, the SDGs focus on providing access to educational infrastructure, services and technologies to "ensure equal access to all levels of education and vocational training for the vulnerable, including persons with disabilities, indigenous peoples and children in vulnerable situations". Access to education should also be inclusive, affordable and of high quality.
The UN Declaration on Human Rights Education and Training seves as a good reference regarding the limitations and goals of education policies, regulations and organisations operating in the education field. The Human Rights Council Resolution on the Right to Education aggregates key points identified in similar international declarations and conventions on education in one document and provides basic criteria which organisations can use to be more responsible in the education sector.
The declaration states that organisations should respect, protect and fulfil the right to education by all appropriate means, including by addressing issues of availability, accessibility, quality and equality in education, including in non-formal education mechanisms and programmes. It also states that private companies operating in this environment should be accountable for any negative impact on the enjoyment of the right to education. Based on this, the PRI defined pre-conditions for impact investing companies operating in the educational field:
companies that provide access to educational services, infrastructure and technologies targeting vulnerable groups including low income groups, indigenous peoples, children in vulnerable situations, marginalised groups and disabled people;
education facilities and services that support gender equality;
education facilities, services and technologies that operate in pre-primary, primary, secondary and tertiary education;
companies that provide access to educational services to teachers and educators across all levels of education; and
companies that provide access to affordable and quality services for marginalised groups, low income populations and people with disabilities.
It is important to highlight that educational loans or finance were not included in this theme due to their complexity and because it is difficult to differentiate a mainstream company from an impact investing company in this field. For example, in the US, one in four of the country's 44 million student loan holders are struggling to make payments or are in default ($1.4 trillion is the total market of student loan debt in the US). The average US borrower graduates college owing around $34,000 and can expect to spend the next 21 years paying off their loans. In addition, according to a study by the Pew Research Center and the Report on the Economic Well-Being of US Households, "young college graduates with student loans are more likely than those without loans to have a second job and to report struggling financially".
Furthermore, many companies operating in the educational loan business do not differentiate or rank universities based on the quality of institutions and their social or environmental commitments and strategies, or whether they have policies related to the Client Protection Principles (targeting students).
Since educational finance is a sensitive area in the impact investing industry, the Market Map focuses exclusively on educational facilities, technology companies and educational service providers.
Definition: Education
Companies and organisations that ensure equal access to all levels of education and/or vocational training for the population, including vulnerable groups such as low-income individuals, those with disabilities, indigenous peoples and children in vulnerable situations; and/ or companies which provide support to teachers and educators across all levels of education. The companies and organisations focus on supporting education development to individuals that is affordable, with quality and non-discriminatory policies or practices for women, girls and minority groups.

United Nations Declaration on Human Rights Education and Training, and the Human Rights Council Resolution on the Right to Education
Download the full report
Impact investing market map

August 2018
Impact investing market map
1

2

3

4

5

6

7

8

9

10

Currently reading

Education

11

12