UN agencies and international conventions have created basic definitions and conditions for sustainable forestry, but these are not acknowledged or adopted by all countries. In the Nordics, governments have been working with companies to develop national standards based on local characteristics and which align with the Programme for the Endorsement of Forest Certification's (PEFC) globally-recognised sustainability benchmarks.
Conversely, some countries may have regulations that allow the private sector to create artificial forestry to the detriment of wild forests. Meanwhile, others may have policies that align sustainable forestry businesses with extractive practices and/or companies may not be responsible or accountable for managing and preserving soil and local vegetation (conservation practices).
"As impact moves from niche to mainstream, it is important that investors do not lose sight of the importance of intention in the definition of impact. Impact is not a by-product or positive unintended consequence, but an intentional output targeted through thoughtful investment. Having a Market Map helps to harmonise language for asset owners, fund managers and impact investing companies.

Sarah Norris, Investment Manager, European Equities, Standard Life Investments
As a result, private sector companies and investors can only rely on certifications to ensure that impact investing companies are labelled as sustainable forestry, such as the Forestry Stewardship Council (FSC) and the PEFC. However, not all certifications are harmonised. Some focus on maximising wood production and minimising the costs associated with environmental and social impacts; others focus on integrating practices related to sustainable forestry management and conservation, as well as adopting indicators to measure social, environmental and cultural impacts.
Nevertheless, the international community agrees that sustainable forestry models should focus on facilitating the adoption of "mechanisms that not only ensure sustainable forestry and conservation, but also provide satisfactory livelihood opportunities for forest-dependent communities, and promote sustainable economic development for all nations, including countries with low forest cover".
Despite the value and relevance of certifications to businesses and the impact investing community, less than 10% of the world's total forestry, particularly in tropical regions, is certified.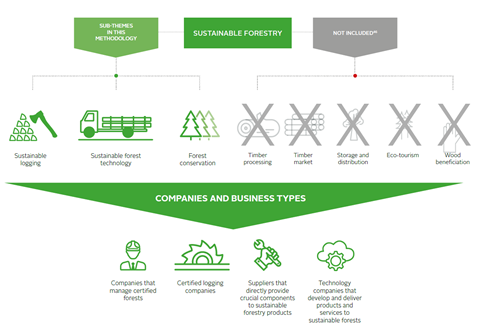 This is a major concern for the international community and large development institutions, "since the increasing demand for (uncertified) wood will lead to further degradation and fragmentation of forests and permanent deforestation". A study by WWF highlights that demand for wood products could triple in the next 20 years.
However, demand for certifications and sustainable forest management businesses is also on the rise. An increasing number of countries are adopting and implementing policies and incentives to promote and secure sustainable forestry businesses; global initiatives such as the Paris Agreement and the SDGs provide clear commitments to countries and the private sector to operate in this field; and large DFIs have been investing in and supporting sustainable forestry businesses. IFC has invested in more than 50 sustainable projects in this field worth $1.5 billion, and IFC Advisory Services supported 44 projects worth $30 million in spending, mainly on land and social and environmental issues with upstream activities such as timber plantations.
Based on high demand for sustainable forestry companies and low supply of impact investing companies in this field, the PRI developed the sustainable forestry methodology using the latest UN conventions as well as studies and reports in the field. Criteria that aligned with the demands of investors interested in tackling targets related to the SDGs on sustainable agriculture were then created.
Definition: Sustainable forestry
Companies that generate revenues from products, services, infrastructure and projects to meet the social, economic, ecological, cultural and spiritual needs of present and future generations. These needs are for forest products and services, such as wood and wood products, water, food, fodder, medicine, fuel, shelter, employment, recreation, habitats for wildlife, landscape diversity, carbon sinks and reservoirs, and for other forest products.

UNECE
Download the full report
Impact investing market map

August 2018
Impact investing market map
1

2

3

4

5

6

7

Currently reading

Sustainable forestry

8

9

10

11

12