The WWF conceptual framework for water stewardship progression can be used to guide investor engagement with companies on this topic.
It can be used by investors to help identify if, where and how to engage with companies to address their water risks in agricultural supply chains through four elements:
Foster water awareness - developing knowledge of impact and risk
Promote internal and supply chain action
Encourage collective action
Influence governance of water
Disclosure and transparency is incorporated through the framework. The elements in the framework can be used to categorise the various actions companies can take to address water risks in their agricultural supply chains. Where companies prioritise action will be dictated by:
the local nature and context of water across operations/supply chains;
sectoral differences between companies;
the overall level of exposure to water risks; and
the scale of the company response/action (both corporate and within operations/the supply chain).
Investors should not expect companies to rigidly progress from one element to the next. Rather, each element requires an iterative process of learning, acting and improving. Only companies with a sophisticated understanding of water risks will take action at the higher levels (generally stages three and four).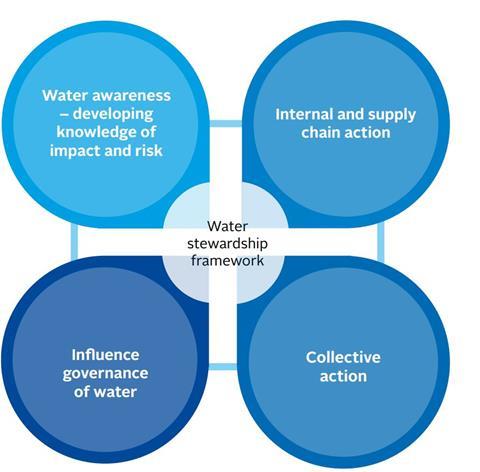 Aiming for a common goal
When engaging with a company on water risk in agricultural supply chains, investors usually set milestones and objectives for the company during the dialogue. However, investors should also consider overarching goal(s).
Investors expect companies to:
identify and disclose agricultural supply chain water risk;
integrate water risk into governance oversight and business strategy;
implement actions to mitigate and minimise the risks;
engage with stakeholders; and
monitor and publicly report on progress made, including against time-sensitive goals and targets.
The water stewardship framework is structured around four categories:
Water awareness - developing knowledge of impact and risk
Internal and supply chain action
Influence governance of water
Collective action
Each element of the framework will set out investor expectations for the company and present a checklist, which can help to add structure and guide investors during a company meeting.
Indicators: Actions in company water risk management in agricultural supply chains. They are applicable across different companies, locations and contexts.
Priority indicators: Actions that companies can take as a basic first step and should be prioritised have been coloured in orange.
Leading practice: A description of leading practice for the indicator.
Disclosure: A tick indicates the material indicators that investors expect a company to publicly report on. Ideally, a company should address all indicators in their reporting but should disclose the material indicators first.
Engagement questions: To help investors extract more in-depth information on the indicators.
Download the full report
Investor guide on water risks in agricultural supply chains

March 2018