To a large degree, water risk derives from the collective use of water by all stakeholders that share a common source.
Therefore, to help mitigate water risk, companies need to engage beyond their own supply chain with other stakeholders, including water users in supply chain locations, other companies that share the same sourcing areas, water management institutions, relevant parts of government and NGOs etc. Collective action should also be initiated at the relevant scale to address the specific water risks identified. The right level of collective action can be at the local, catchment or basin scale, or indeed at the state or national level. Companies should show a clear understanding of the scale at which to engage other stakeholders to address the fundamental drivers of their water risk.
Investors expect companies to:
use water risk hotspots and identify key catchment areas where the company can have most impact;
identify key partners, such as NGOs and companies or other buyers, and set shared goals with common indicators;
understand current catchment efforts where suppliers are operating that address relevant water goals and how the company can contribute to them;
support collective action in water risk hotspots by engaging with local basin stakeholders such as municipalities, governments, other companies, farmers and NGOs;
engaging commodity traders/distributors in the supply chain to improve traceability, advance commodity standards and ensure responsible sourcing; and
share lessons learnt.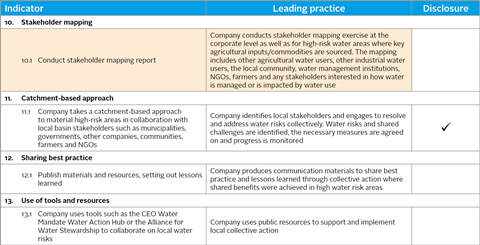 Example engagement questions
Have you identified the key water stakeholders in your areas of high water risk? If so, how?
What process have you employed to understand your impact on local water stakeholders?
What existing initiatives in your high water risk areas take a multi-stakeholder approach?
Have you identified how your company can contribute to these existing projects/initiatives?
How do you support collective action among water stakeholders in your high water risk supplier locations?
Do you publish information on your engagement with others on water issues?
Good practice example: Marks and Spencer
In partnership with WWF, M&S has assessed its global fresh produce supply chains to identify key water risk locations for the company: areas with a concentration of suppliers in high water risk areas that supply a significant proportion of key crops. M&S has engaged in its key sourcing areas using a stewardship approach to reduce risk and impact. Examples of the actions the company has taken to date on collective action include:
testing the Alliance for Water Stewardship standards with growers in the Western Cape, South Africa - a key sourcing region;
working with civil society groups in supply areas in South Africa to address water quality issues and facilitate removal of water-thirsty alien invasive vegetation;
convening sector peers to catalyse collective action on water in shared sourcing areas; and
taking a leadership role in the SAI Platform Donana Berry Project.
Download the full report
Investor guide on water risks in agricultural supply chains

March 2018