As with each element in the framework, developing an awareness of water issues and, over time, an in-depth understanding of the complex and unique nature of water issues facing the company is an ongoing and iterative process.
The aim of this stage is to develop awareness of: the water context of operational and supplier locations and input or revenue dependencies paired with potential water risks; and company impacts and dependencies on freshwater and the implications for its sector. Awareness also encompasses how the company is perceived by others, including basin stakeholders, the media and consumers. Awareness should not be siloed within sustainability teams. It needs to extend to marketing/sales, procurement and finance – from the board to operations.
A company needs to understand its impact on water and how it is impacted by water to develop appropriate responses to risk. For agricultural supply chains, understanding where a company's footprint is, where suppliers and growers are located and what dependencies they have on water is essential to understanding risk and impact. The initial mapping of key suppliers can be difficult, particularly when working through large commodity traders.
Companies should look beyond their direct operations and at the local contexts of their supply chains to understand water use and impact across the business, such as manufacturing and growing. It is challenging to obtain quantitative data on supply chain water impacts, but qualitative data can be collected by identifying impacts of cotton growing practices on water quality and how they are managed in sourcing areas, for example. Companies should know the geographic locations of their supply chains and conduct a water risk hotspot analysis using a recognised tool such as the WWF Water Risk Filter.
Investors expect companies to:
have board-level oversight of water risk and integrate water into strategy, environmental policies, business planning activities and investment decision making;
understand potential water-related financial impacts, the water context of operations and supply chains and implications for the sector;
understand what sector leaders are doing, as well as the external perception of the company and investor expectations;
trace supply chains, identifying the location of operations and suppliers;
identify high-risk hotspots from stress, scarcity and risk perspectives;
understand the impact of operations and supply chain activities on people and the environment;
understand current and future risk and opportunities to protect and secure water resources in the future; and
publicly report on: agricultural supply chain water risks, the processes involved and factors considered to identify risk; and how the company has performed through company reports and its website or through recognised reporting and disclosure initiatives such as CDP Water and Global Reporting Initiative.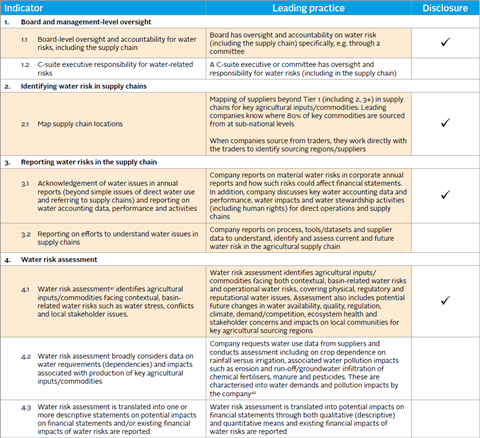 Example engagement questions
What is the highest level of oversight for water risk issues within the business?
To what extent do you know your (producer and/or manufacturer) supplier locations down to the farm level or nearest town?
For commodities, do you know the key growing areas in the countries you source from?
What are the water risks in your key sourcing/operating areas (e.g. drought occurrence, flood occurrence, local stakeholder perceptions, changes in regulations and status of water management institutions)?
Are you aware of other demands for water competing with your supply chains in key sourcing/operating areas (e.g. other agriculture sectors, industry, energy and communities)?
Have you conducted a water risk assessment down to the individual farm/operational levels in your supply chains using a recognised water risk tool?
What tools do you use to assess high-risk areas?
Have you assessed the key drivers of risks you are exposed to in high water risk areas such as overabstraction and poor water management? If so, what are they?
Have you considered future water risk amid the physical impacts of climate change on your inputs/commodities?
Does this risk assessment account for the volume and financial value from each supplier and supplier cluster?
Does the water risk assessment account for concentration of supply - a high proportion of products coming from one area, for example?
Have you considered the reputational and regulatory issues associated with sourcing locations?
Do you know the impact of your suppliers and/or producers on water quality?
Do you know the water use or consumption of your suppliers relative to other water users in the area?
Do you check the legality of suppliers with respect to water abstractions and use of pesticides and fertilisers?
What actions do you take if suppliers are found to be acting illegally?
Good practice examples
Nestlé
The Nestlé in Society Board is chaired by the CEO and seeks to implement shared value, environmental sustainability and compliance. The Water Task Force sits under this umbrella and ensures the integration of water stewardship throughout the company and operations. The Board of Directors are regularly briefed on water and water risk issues via the Nestlé in Society Board.
The Nestlé in society: Creating Shared Value 2016 annual report outlines commitments to: achieve water efficiency and sustainability; advocate effective water policies and stewardship; treat discharged water; engage with suppliers; raise awareness on water conservation; and improve access to water and sanitation across the value chain. The company reports on the activities to meet these commitments.
H&M
H&M publicly discloses a list of suppliers by the supplier type and geographic location. The names and locations of mills that provide Tier 1 suppliers with fabrics and yarns are shown. These Tier 2 mills make about 60% of the items produced for H&.
Download the full report
Investor guide on water risks in agricultural supply chains

March 2018