Signatory type: Investment manager
HQ country: US
Our diversity, equity, and inclusion philosophy
Glasswing Ventures is a Boston-based venture capital firm investing in early-stage intelligent enterprise and frontier technology start-ups. We believe that diversity, equity, and inclusion (DEI) initiatives contribute materially to a company's performance, as leaders improve strategic decision making by fostering diverse perspectives and backgrounds.
How we implement our DEI philosophy
We engage in and promote the following DEI activities within our firm and portfolio companies:
Diversity – hiring, engaging, learning from, respecting, and supporting the communities and cultures with which we work. We create and cultivate environments that reflect race, gender, religion, sexual orientation, ethnicity, nationality, socioeconomic status, language, (dis)ability, age, religious commitment, and political perspective differences.
Equity – promoting justice, impartiality, and fairness within the procedures, processes, and distribution of resources. We are committed to conducting business in a socially responsible and ethical manner.
Inclusion – fostering diversity of experience, culture, and gender across leadership teams to strengthen decision making and team perspective. All members are equally included in decision-making processes and are welcomed in our work environments.
DEI policies
Our commitment to DEI is included in our ESG policy, which applies to all partners and employees of the firm and informs our expectations of our portfolio companies. It states:
Members of the Glasswing Ventures team seek to maintain actions in our firm and across our portfolio of companies that demonstrate:
an awareness and sensitivity to personal cultural heritage;
respect for and value of different heritages;
an awareness of personal values and biases and how they may affect the perception of others;
a comfort with differing personal cultures and value systems;
a good understanding of the power structure in society and its effect on non-dominant groups;
the ability to intervene appropriately and advocate on behalf of individuals from different cultures (i.e., serve as an ally).
We seek to support efforts embracing diversity by:
continuously assessing the company climate regarding inclusion and sensitivity;
promoting cultural competency and open-mindedness around identity;
encouraging strong and mutually respectful connections between employees, members of the Glasswing Ventures platform, employees of portfolio companies, and the broader community;
maintaining an open-door policy at the Managing Partner/Director level; and
serving as an ally in the diverse Boston community and beyond.
We strongly encourage founders of early-stage companies to establish codes of conduct with appropriate and explicit policies to create a strong foundation for governance and company culture. We have a code of conduct requirement for all teams we invest in and include the following clauses in our term sheets and legal documents:
Inclusion Clause

The portfolio Company will make a best effort to build a highly qualified and diverse team.

Anti-Harassment & Discrimination Clause

The portfolio Company shall, within ninety (90) days following the Closing, adopt and thereafter maintain in effect (i) a Code of Conduct governing appropriate workplace behavior and (ii) an Anti-Harassment and Discrimination Policy prohibiting discrimination and harassment at the Company. Such policy shall be reviewed and approved by the Board of Directors.
Driving DEI adoption across the Glasswing portfolio
During investment due diligence, the investment team discusses our DEI philosophy with founders to ensure that our expectations are understood. We only invest in founders who share our cultural perspective on integrity, strong governance, and commitment to DEI. They must agree to our views verbally and sign terms that include them.
We encourage and provide support to ensure diversity goals are addressed within the talent recruitment process to grow the percentage of women and Black, Indigenous, and People of Color (BIPOC) employees and leaders.
Our team ensures that portfolio companies have sufficient resources to achieve their ESG initiatives and goals. Improving diversity at the earliest stage of a company establishes the mindset to maintain, review, and improve its commitment to DEI as it grows.
Where an early-stage company lacks team diversity, our investment team identifies this as a risk and begins a dialogue to better understand its recruiting efforts and, where possible, sources candidates from diverse backgrounds.
Post-investment, we monitor portfolio companies every quarter and help them on DEI-related matters. Our partners promote ongoing discussions about the importance of DEI across all employment practices in board meetings and executive communications.
Measuring and reporting on DEI
We provide our companies with templates that track gender and race as a percentage of the whole team and of the leadership team, including board members.
We highlight firm and portfolio company DEI statistics during our funds' limited partner advisory committee meeting and Annual General Meeting. Figure 1 provides an example of this reporting.
Figure 1: Glasswing Ventures' DEI reporting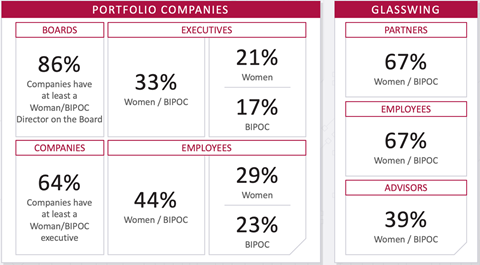 DEI education
We constantly seek to educate all investee team members on DEI best practices. The Trust Network is a Glasswing Ventures Platform initiative that hosts training and peer-to-peer roundtable conversations for portfolio company executives to learn about DEI approaches. Previous topics have included recruitment tactics to attract diverse candidates and inclusive behaviors to promote openness.
Broader ecosystem efforts
Our team members take active roles in promoting DEI in the broader start-up ecosystem. We have partnered with Envision, an accelerator for undiscovered and underrepresented talent, and supported intern hiring programs through Hack Diversity and Vencapital, a non-profit accelerator for minorities seeking career opportunities in venture finance.
Example: ChaosSearch, a Fund I portfolio company
At investment, ChaosSearch's founding team consisted of two white males. As its only female board director, Glasswing Partner Rudina Seseri created an early focus on DEI. The data analytics company has since added three women and one minority male to its management team.
We directly sourced and introduced two of the candidates to ChaosSearch, and several other diverse, non-executive employees.
The addition of diverse leaders has generated a positive shift toward more diversity across the whole company, with the percentage of female employees increasing from 8% to 19% within the last year. Additionally, ChaosSearch has attracted candidates looking to work for a company with diverse leadership and teams – as confirmed by some of the individuals hired.
The leadership team has also made a proactive effort to attract diverse candidates by posting positions on targeted recruitment sites like Black Tech Pipeline.
The ChaosSearch leadership team has established equitable and inclusionary practices based on educational webinars focused on DEI best practices and discussions with our Trust Network, including:
hosting a three-day onboarding experience for new starters, which has received positive feedback from employees;
meeting as a group every day to avoid silos and create synergies across departments;
hosting a town hall every two weeks, where employees are encouraged to submit anonymous questions in advance of or during the event.
These have laid the groundwork for an open and inclusive culture.
ChaosSearch has established equivalent pay grades for positions and ensures that these are maintained. The leadership team has built career guidance such that roles are offered similarly between genders and races. We have reviewed these to ensure that compensation levels are equal for all positions.
In keeping with our shared philosophies, ChaosSearch's DEI initiatives are improving strategic decision making through diverse perspectives and backgrounds and are contributing materially to its performance.
Our entire portfolio benefits from having formal DEI initiatives. As these become normalised, we expect to have a key strategic advantage as an investment firm.